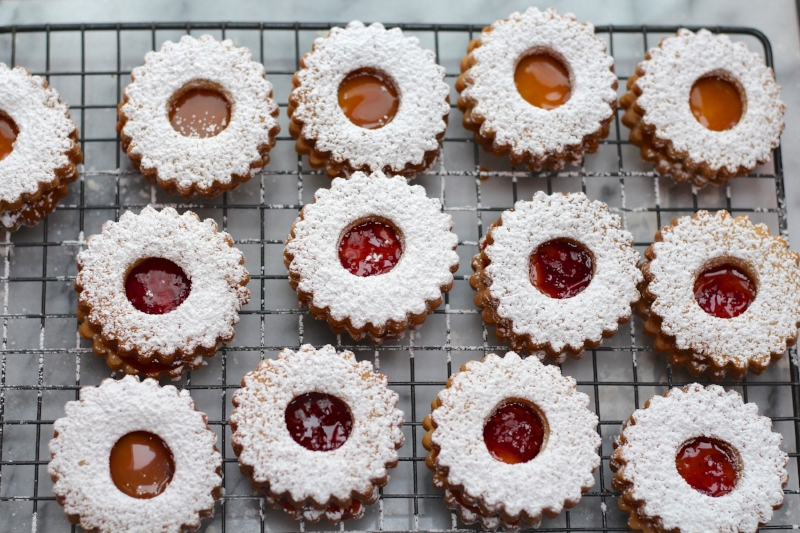 Linzer cookies are something that I have always admired, but never tackled in the kitchen myself. For some reason, they always intimidated me in the beginning of my cooking days, then as time passed, I sort of forgot about them. Maybe because they aren't a cookie that you typically see, so the thought didn't cross my mind to make them. Then, I came across online, Ina Garten sharing her favorite cookie recipes for the holidays. This recipe was on the list. I checked it out, and knew I had to make them.
I think the typical linzer cookie has ground nuts in the dough, but these ones were straight up butter. I was a little reluctant at first when I saw how much butter there was, in fact, in the recipe, but I decided to go with it. Ina knows her stuff. Oh boy, these did not disappoint. They were slightly crumbly, yet still moist. I decided to vamp up the cookies a bit and use caramel sauce I had in the fridge left over from the brie, as well as some homemade strawberry jam. They were SO good! I would definitely recommend the caramel. I preferred these cookies the following day. Partly because they became a little softer (I accidentally over-baked my cookies since I am still getting used to the convection oven), but, also time let the flavors meld together. These will be a show stopper at any upcoming holiday party! Or for any time of the year.
---
Recipe adapted from The Barefoot Contessa
Linzer Cookies
Yield:
15-18 sandwich cookies
These classic linzer cookies are nut-free with a slightly crispy and soft cookie that is dusted with sugar and filled with your choice of jam. These will become everyone's favorite cookie.
Ingredients
3/4 pound (3 sticks) unsalted butter, at room temperature
1 cup granulated sugar
1 teaspoon vanilla extract
3- 3 1/4 cups all-purpose flour
1/4 teaspoon salt
your choice of jam flavor
caramel sauce, homemade or store bought (optional)
confectioners' sugar, for dusting
Instructions
In the bowl of an electric mixer fitted with the paddle attachment, cream together the butter and sugar until light and fluffy, 2-3 minutes. Mix in the vanilla extract. In a medium bowl, whisk together 3 cups of flour and salt. On low speed, slowly mix in the flour mixture. Mix until completely combined. If the dough seems too wet, slowly add more flour until the dough holds together, but isn't crumbly.

Place the dough on a lightly floured surface and pat into a large disk. Wrap in plastic wrap and place in the refrigerator for 30 minutes.

Meanwhile, line baking sheets with parchment paper or silicone baking mats, and set aside.

Once the dough has chilled, roll it out on a lightly floured surface to 1/4-inch thick. Cut out circles with a plain or fluted cutter. With half of the circles, cut out a smaller circle or a small design with a mini cookie cutter. Place the cookies on the prepared baking sheets and place in the refrigerator for 15 minutes.

Meanwhile, preheat the oven to 350ºF.

Bake the cookies for 15 to 20 minutes, until the edges just barely begin to brown. Let cool completely before proceeding with jam. Spread jam on the flat side of each solid cookie. Dust the top of the cut-out cookies with confectioners' sugar and press the flat sides together, with the jam in the middle and the confectioners' sugar on the top. Serve or store in the refrigerator in a sealed container for 2-3 days.