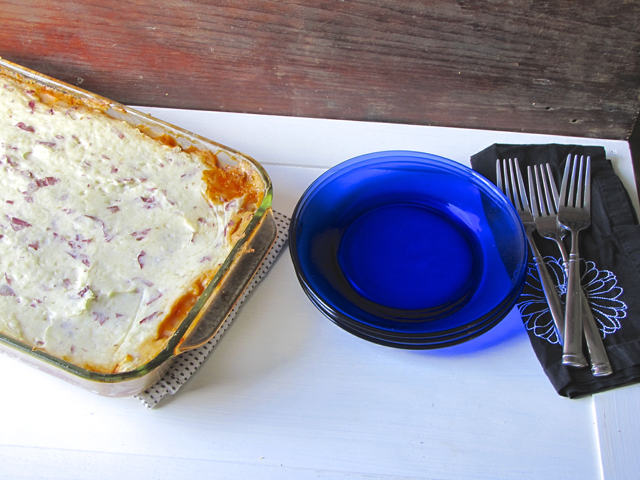 I find it hard to believe that the official first day of winter isn't until Saturday! We got hit with about a foot of snow on Sunday, then we got another foot last night! Everything is like a winter wonderland. It is so beautiful. I love freshly fallen snow that is untouched. The kids have had so much fun playing in the snow. My son was attempting to shovel the lawn with his sand shovel so the mower could be brought onto the lawn (that is his all-time favorite thing to talk about and sit on, remember: he is only two!) My daughter has been sledding down the driveway all morning. And our dog, part husky, part lab, has been frolicking all morning, happy as can be.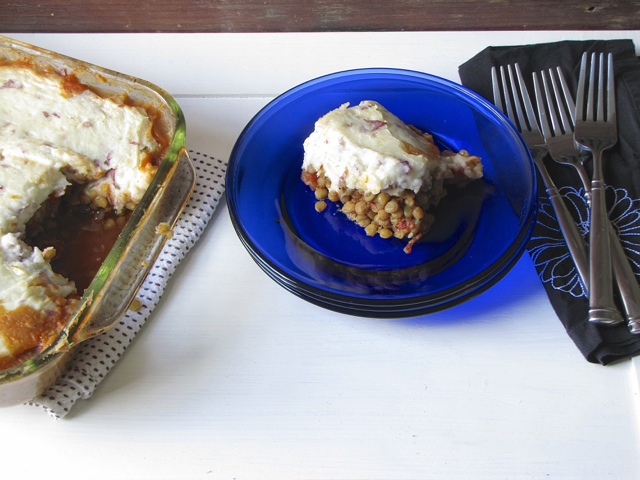 With all the snow and frigid temperatures (it's been single digits a good part of the week), I thought it was time to share a nice hearty meal. I absolutely love this dish. It is just as good as the meat version! Thank you to Kyra, for making me love this dish when I was young and picky! The lentils are a fantastic substitute for hamburger, and just as filling! Vegetarians can be just as satisfied. This dish definitely gets better by the next day. It makes wonderful leftovers for days! It is perfect for a cold winter's night.
---
Recipe heavily adapted from Lily's Café Cookbook, Revised Edition by Kyra Alex
Meatless Shepherd's Pie
Cook Time:
1 hour
25 minutes
Total Time:
1 hour
45 minutes
This vegetarian dish is reasonably healthy, wonderfully filling, and fabulously satisfying. It will warm your soul on a cold evening.
Ingredients
For the filling
1 1/2 cups dried lentils
1 Tablespoon olive oil
1 large yellow onion, thinly sliced
1 28 oz. can diced tomatoes
1 1/2 Tablespoons soy sauce
1/2 cup fresh parsley, chopped
1/2 teaspoon dried basil
1 teaspoon fines herbs (if I don't have this on hand I use Italian seasoning and garlic powder)
plenty of salt and pepper to taste
For the mashed potato topping
2 pounds red potatoes, scrubbed and sliced about 1/4-inch thick
4 Tablespoons unsalted butter
1/3 cup milk
1 teaspoon salt
black pepper to taste
1/2 teaspoon granulated garlic
Instructions
Grease a 9x13 inch pan. Set aside.

Place the lentils in a large sauce pan and cover with cold water by 3 inches. Bring to a boil, and simmer until lentils are tender but still hold their shape, about 15-20 minutes. Drain and place in a large mixing bowl, set aside.

Heat the olive oil in a medium sauté pan. Add the sliced onions and sauté over medium high heat until soft and golden brown. Remove from heat. Add the onions with the lentils, along with the canned tomatoes, soy sauce, parsley, basil, fines herbs, salt and pepper. Toss well to combine. Place the lentils into the prepared pan, spreading evenly.

Preheat the oven 350ºF.

For the potatoes, place the sliced potatoes in a large pot, and cover with cold water. Bring to a boil, and simmer until tender when pierced with a knife. Drain and place the potatoes back in the pot. Add the butter, milk, salt, pepper and garlic. Beat with a hand mixer until smooth. Add more milk if the potatoes are too stiff.

Spread the mashed potatoes evenly on top of the lentil filling. Run a fork along the top for a decorative design if desired. Bake in the preheated oven, uncovered for 35-45 minutes, or until the top is golden and the sides are bubbling.