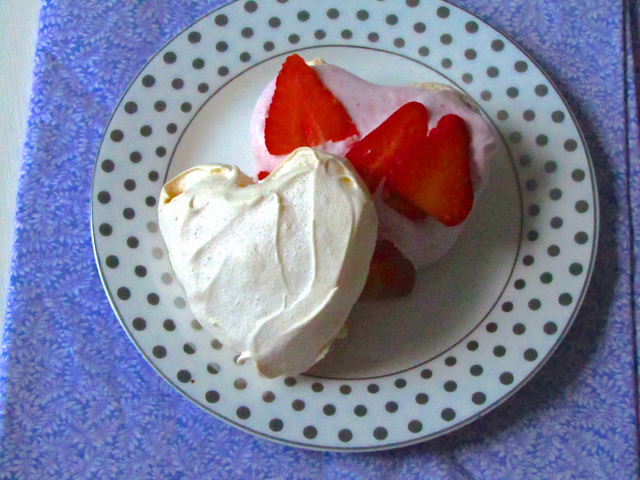 I apologize for being so quiet around here lately. We had been battling a long siege of sickness that seemed to spread like wildfire through the family. The kids were sick for several days, but it seems like I was out of commission the longest. I mean like, bed ridden out of commission. It was rough. Thank god my husband didn't get hit with it very hard so he managed to take care of the kids. Now that my tastebuds are back and I am feeling normal again, cooking is back on! I must say that I am thoroughly sick of rice, toast and chicken noodle soup.
Luckily, I made these meringues a few weeks ago to share with all of you, just in time for Valentine's day! What is everyone doing for the "big" day? Dinner date, stay home and watch a movie, alone? My husband and I don't do anything special since his birthday is the day before. We aren't big holiday celebrators.
Anyway.
Moving on to these meringues. This was the first time I have ever made meringues, and boy, they were delicious! Light, airy and crisp. I made a little sandwich of meringues with the whipped cream and chopped strawberries, and it was to die for. Like, I couldn't wait to each lunch just so I could eat a meringue. These would be perfect to whip up for a loved one in your life for Valentine's Day, or just for yourself if you'd like. And they don't have to be made into hearts if you aren't into that sappy stuff.
---
Recipe for the meringues from Joy of Baking
Meringue Hearts with Strawberry Whipped Cream
Yield:
about 12 meringues
Cook Time:
1 hour
10 minutes
Total Time:
1 hour
25 minutes
These light and airy crispy meringues are perfect for valentine's day. Fill with a strawberry purée and whipped cream for a lovely dessert.
Ingredients
For the meringue
4 large egg whites, at room temperature
1/2 teaspoon cream of tartar
1 cup superfine white sugar (I put mine in a blender and processed until finely ground)
1 teaspoon vanilla extract
Strawberry Puree
2 cups chopped strawberries (frozen and thawed or fresh)
2 Tablespoons sugar
Strawberry Whipped Cream
2 cups heavy whipping cream
1 teaspoon vanilla extract
2 Tablespoons confectioners sugar
1/2- 3/4 cup lightly sweetened strawberry puree
Fresh Berries (optional)
Instructions
For the meringue hearts: Preheat the oven to 250ºF and place racks in upper and lower third of your oven. Line two baking sheets with parchment paper or silpat. Set aside. Have ready a 4 inch heart-shaped cookie cutter for a guide if desired.

In the bowl of an electric mixer with the whisk attachment, beat the egg whites on medium-low speed until foamy. Add the cream of tartar and beat on medium the whites until it holds soft peaks.

Add the sugar, a little at a time, and beat on high speed until the meringue holds stiff peaks. Transfer the meringue to a pastry bag fitted with a 1/2 inch plain tip.

Pipe 12 heart shapes of the meringue onto the prepared baking sheets, using the heart cookie cutter as a guide. (Alternatively, pipe into 2 inch rounds.) Smooth with an offset spatula.

Bake in the preheated oven for about 60-70 minutes, alternating the baking sheets half way through. The meringues are done when they are easily released from the baking sheets. When the meringues are done, turn off the oven, open the door slightly and let sit for about 30 minutes.

Meanwhile, make the strawberry puree and whipped cream. To make the puree, combine the chopped strawberries into a small bowl with the sugar. Let sit at room temperature for about 30 minutes to macerate. Place the strawberries in a blender or food processor and blend until smooth. Set in the fridge until ready to use.

To make the whipped cream: in the bowl of an electric mixer fitted with the whisk attachment, beat together the heavy cream, vanilla extract and confectioners sugar until soft peaks form. Fold in 1/2-3/4 cup of the strawberry puree.

To assemble: Pair the meringue hearts according the size. Spoon desired amount of whipped cream onto one side of each pair, place fresh berries on top of whipped cream, if desired, and top with remaining meringue. Serve immediately.

Store leftover meringues in an air tight container at room temperature for up to one week, assembling right before serving.