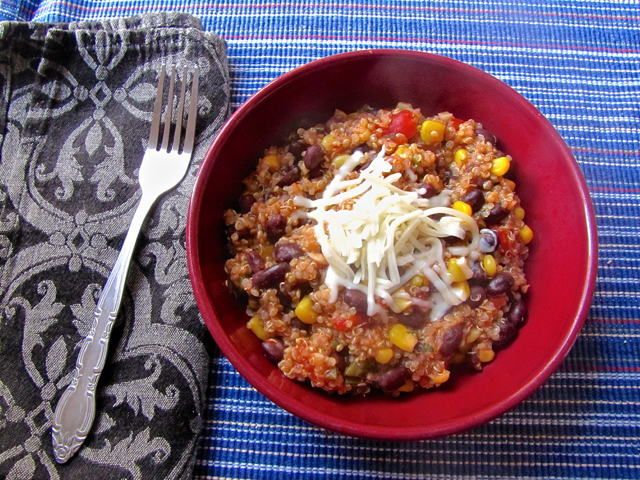 Quinoa has become my favorite super food. It is quick, easy, delicious and healthy! I find myself going towards quinoa on those nights I don't really feel like cooking, or I am short on time and know that I need to make something healthy rather than the PB&J standby. It can make a great side dish, or a simple, light meal when paired with a salad. I have even managed to convince my picky daughter to eat it (if it's loaded with Parmesan cheese)!
This recipe is full of tasty vegetables and black beans. It was filling enough for my family with just a side salad. This would also be perfect paired with enchiladas….Mexican night!
---
Recipe from Annie's Eats
Mexican Quinoa
This healthy quinoa is full of wonderful spices, corn, black beans and fresh herbs. It's filling enough on its own, but would also make a great side dish to chicken.
Ingredients
2 teaspoons olive oil
2 cloves garlic, minced
3-4 jalapeños, seeded and finely chopped
1 cup uncooked quinoa
1 1/4 cups vegetable or chicken broth
1 can black beans, drained and rinsed
1 (14.5 oz) can diced tomatoes with juices
1 cup frozen corn (or kernels cut from 2 cobs of corn)
1/2 teaspoon kosher salt
1/3 cup chopped fresh cilantro or 3 Tablespoons dried
1 quarter of a lime, juiced (or 1 teaspoon)
Optional Toppings
shredded cheese, sour cream, salsa, and/or avocado
Instructions
Rinse and drain the quinoa well. (Don't miss this step, it's very important!)
Heat olive oil in a medium saucepan over medium-high heat. Add garlic and jalapeños to the pan and sauté until fragrant, about one minute. Stir in the quinoa, vegetable broth, beans, diced tomatoes, corn and salt to the pan. Bring to a boil. Reduce the heat to medium-low and cover. Simmer for about 25 minutes, stirring occasionally, until the liquid is fully absorbed.
Remove from the heat. Stir in the cilantro and lime juice. Serve as desired with optional toppings.