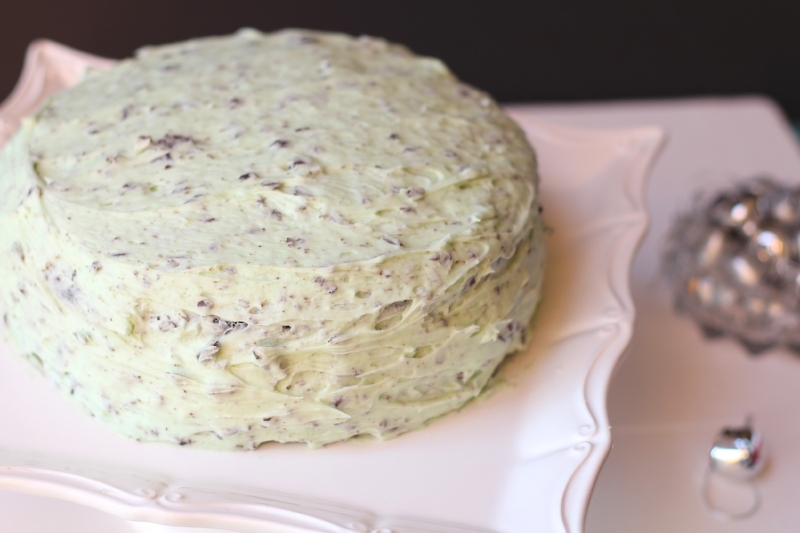 I hope you all aren't getting tired of peppermint yet, because I have several more recipes to share with you. Hey- it is the season! When I saw this recipe, I just KNEW that I had to make it immediately! And this is coming from someone who doesn't even really chocolate cake. What the heck is going on! I guess I am indulging in the holiday spirit, to say the least. It's a good thing I have plenty of family around that is willing to take some baked goods off of my hands. That is, if I am willing to share!
Let me tell you about this cake. It is heavenly. It has taken mint chocolate chip to the next level. Who loves that ice cream flavor? I know I do. I decided to make my favorite chocolate cake, but add this killer frosting. And the cake is eggless as well! This is a new favorite in my book. It was a huge hit all around! Moist, chocolate cake topped with minty, chocolatey frosting. Perfect!
---
Recipe for the cake from Lily's Café Cookbook, by Kyra Alex, and frosting from Confessions of a Cookbook Queen
Mint Chocolate Chip Cake
Dense chocolate cake layers slathered with a creamy, mint chocolate chip frosting is just right for this holiday's dessert table.
Ingredients
For the chocolate cake
2 1/4 cups all-purpose flour
1 1/2 cups granulated sugar
1 1/4 teaspoons baking soda
3/4 teaspoon salt
1/2 cup unsweetened cocoa powder
1 1/2 cups hot water
1/2 cup vegetable oil
1 1/2 teaspoons white vinegar
1 1/2 teaspoons vanilla extract
For the frosting
1 cup unsalted butter, at room temperature
1/3 cup heavy cream
2 teaspoons peppermint extract
1 teaspoon vanilla extract
green food coloring
4 cups confectioners' sugar
2 oz semisweet chocolate, finely chopped
Instructions
Preheat the oven to 350ºF. To make the cake, grease and flour two 9-inch cake pans. Set aside.

In a large bowl, whisk together the flour, sugar, baking soda, salt and cocoa powder. In a large glass measuring cup, whisk together the hot water, oil, vinegar and vanilla extract. Slowly whisk the water mixture into the flour mixture. Whisk until thoroughly combined and smooth, about 1 minute. Divide the cake batter evenly between the prepared cake pans.

Bake for 15-20 minutes, or until a toothpick inserted in the center comes out clean. Make sure not to overbake, or else you will have a dry cake. Let cool in the pans for about 10 minutes, then gently run a a knife around the edges and invert onto a wire rack. Let cool completely before frosting.

For the frosting; In the bowl of a stand mixer fitted with the paddle attachment, beat the butter, heavy cream, vanilla and peppermint extract on medium speed until smooth. With mixer speed on low, slowly add powdered sugar and mix until just combined. Add a few drops of the food coloring and increase speed to medium high until the color is fully incorporated and the frosting is fluffy, about 3-4 minutes. If frosting is too thick, add another tablespoon or two of cream and beat for 30 more seconds. Stir in the chopped chocolate.

To frost the cake, place one cake layer on a serving plate. Slather a large amount of frosting over the top, making sure to spread it evenly and smooth the top. Place the second cake layer over the first. Spread the remaining frosting over and around the entire cake. Store covered in the refrigerator up to 4 days.