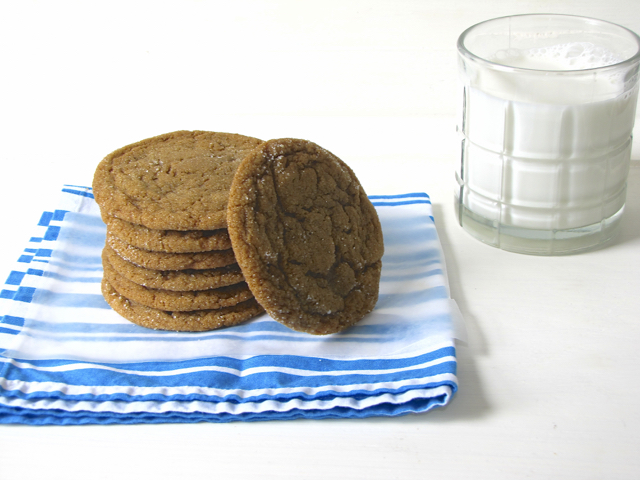 I apologize, I have been on a bit of a sweet kick lately. I promise real food recipes will be coming soon! I just couldn't resist sharing this recipe. These have just become one of my new favorite christmas cookies! I haven't made them in a very long time, and now I am kicking myself! They are so soft and chewy, making you want to reach for another. Just the way a cookie should be! My kids had so much fun rolling the cookie dough balls in the sugar before baking.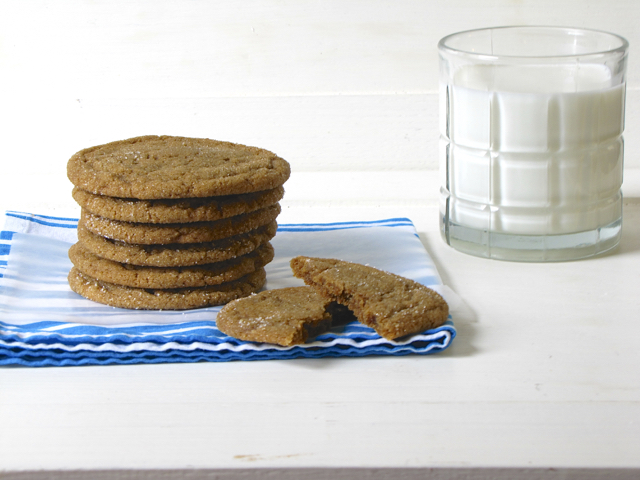 These would be perfect for a holiday party, or maybe a plate for santa (hehe). These are even amazing crumbled over eggnog ice cream. Or maybe that is just a weird pregnancy thing? You won't be sorry that you made these, unless you can't resist eating the whole pan, then I apologize! But I promise not to judge.
---
Recipe from Joy of Baking
Molasses Cookies
These soft and tender cookies are wonderfully spiced and sweet. Great for the holidays.
Ingredients
2 cups all-purpose flour
1 teaspoon baking soda
1/4 teaspoon salt
1 teaspoon ground cinnamon
1 teaspoon ground ginger
1/2 teaspoon ground cloves
1/2 cup unsalted butter, room temperature
1 cup dark brown sugar
2 Tablespoons canola, vegetable, or grapeseed oil
1/3 cup unsulphured molasses
1 large egg
1/2 teaspoon vanilla extract
Garnish
1/3-1/2 cup granulated sugar
Instructions
In a large bowl, whisk together the flour, baking soda, salt and spices. Set aside.

In the bowl of an electric mixer, beat the butter and brown sugar together until light and fluffy, 2-3 minutes. Add the oil, molasses, egg and vanilla extract. Beat until well combined. Slowly add in the flour mixture, beating until combined. Cover the bowl with plastic wrap and refrigerate for 2 hours, or overnight.

When the dough has been sufficiently chilled, preheat the oven to 375ºF. Line two baking sheets with parchment paper or silpat.

Place the granulated sugar in a small bowl. Scoop the cookie dough into about 1 inch balls. Roll the dough balls in the granulated sugar to coat. Place on the prepared baking sheets spacing about 2 inches apart. Continue until all the dough has been used. Using the bottom of a glass, gently press each dough ball down to flatten cookies slightly.

Bake in the preheated oven for 9-10 minutes, or until the tops of the cookies are barely done and cracking a little. Let cool on the baking sheets completely. Store in an air tight container for up to one week.