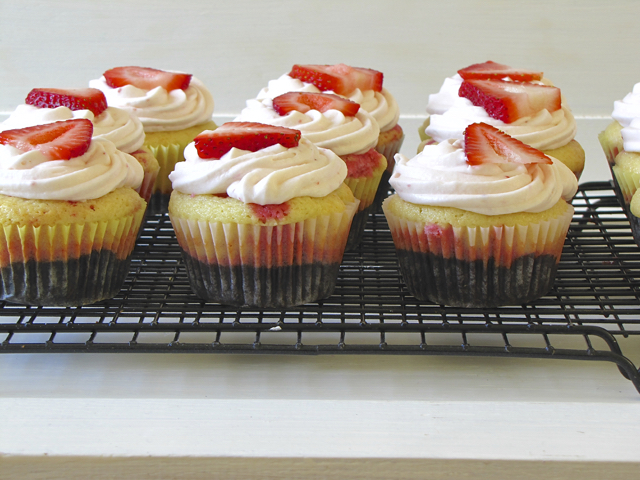 So, my daughter's birthday was last month. We kept it very small and personal. Just family. I gave her a several options of birthday cakes, and of course she chose the big pink one. (I was actually kind of excited because I had been eyeing over that cake for a while now, but needed an excuse to make it!) I know, I know, how come I am only posting about it now? Well, because I was very disappointed with her birthday cake. I wanted to experiment a little bit before I posted the cake recipe. I didn't want to share an unsatisfactory recipe!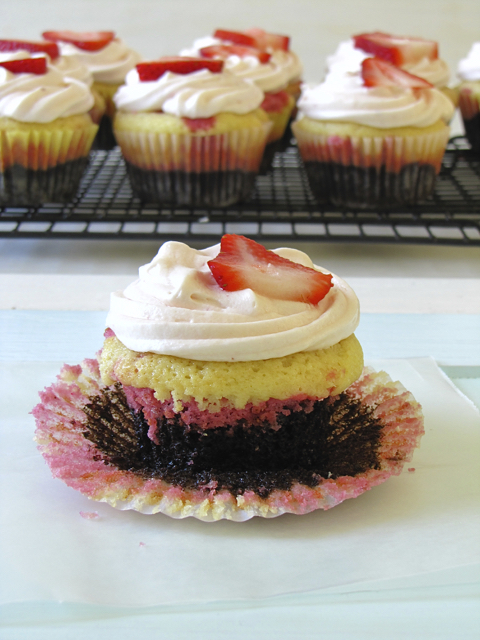 The idea was definitely there and her cake was beautiful, but I was less than impressed. I was very disappointed with the two of the three cake layers. I knew that I should have gone with my gut instinct and used different recipes, but I was afraid of the flavors being wrong. The strawberry and white cake were very dry and almost hard. (And I know it wasn't from over baking them.) My experimental frosting was killer, but way too liquid-y to pipe onto the cake.
So, I was determined to create a cake that was better.
I made cupcakes rather than a very large cake. Cupcakes are way cuter and more portable so I can share with family! All the layers are perfectly moist and you can taste the individual layers. Since I couldn't do filling between the layers, I scooped out the center of each cupcake and filled them with homemade strawberry jam. Oh.my.word. You will have a hard time resisting these cupcakes! In fact, I may have to go get one. Nothing wrong with dessert before lunch, right?
---
Recipe for the strawberry cake adapted from Confections of a Foodie Bride, Chocolate and vanilla cake adapted from Lily's Café Cookbook, Revised Edition by Kyra Alex. Original cake idea from Annie's Eats
Neapolitan Cupcakes
These fun cupcakes are well worth the time. With chocolate, strawberry and vanilla layers, there is a flavor for everyone. 
Ingredients
For the chocolate cake
1/2 cup plus 1 Tablespoon all-purpose flour
1/4 cup plus 2 Tablespoons granulated sugar
1/4 heaping teaspoon baking soda
1/4 heaping teaspoon salt
2 Tablespoons cocoa powder
1/4 cup plus 2 Tablespoons hot water
2 Tablespoons vegetable oil
1/4 cup plus 2 Tablespoons white vinegar
1/4 and 1/8 teaspoon vanilla extract
For the vanilla cake
1 large egg
1/4 cup sugar
1/4 cup plus 1 Tablespoon all-purpose flour
1/8 teaspoon baking powder
a pinch of baking soda
a pinch of salt
2 Tablespoons vegetable oil
1/4 teaspoon vanilla extract
2 Tablespoons sour cream
For the strawberry cake
6 oz. fresh or frozen strawberries (thawed)
1/2 teaspoon sugar
1 Tablespoon milk
1 large egg
1/2 teaspoon vanilla extract
1/2 cup plus 1 Tablespoon cake flour
1/4 cup plus 3 Tablespoons sugar
1 teaspoon baking powder
1/4 teaspoon salt
3 Tablespoons unsalted butter, at room temperature
red food coloring (optional)
For the strawberry cream cheese frosting
4 oz. cream cheese
6 Tablespoons unsalted butter, softened
3-4 teaspoons strawberry purée
3 cups confectioner's sugar
strawberry jam
fresh strawberries for garnish (optional)
Instructions
Preheat the oven to 350ºF. Line 12 muffin tins with cupcake liners. Set aside.

To make the chocolate layer,

whisk together the flour, sugar, baking soda, salt and cocoa powder in a medium bowl. In a large glass measuring cup, whisk together the hot water, vegetable oil, vinegar and vanilla extract. Pour the water mixture into the flour mixture and stir until smooth. Place in the refrigerator while preparing the other cake mixtures.

To make the vanilla layer, i

n a medium bowl, whisk together the egg and sugar and light in color and slightly thickened, about 1-2 minutes.

In a separate bowl, whisk together the flour, baking powder, baking soda, and salt.

Whisk the vegetable oil and vanilla into the egg mixture. Stir in the sour cream until incorporated and no streaks remain. Add the flour mixture, and stir until smooth and fully incorporated. Set aside in the refrigerator while preparing the last cake batter.

To make the strawberry layer, in a blender or food processor, purée the fresh or thawed strawberries with the 1 teaspoon sugar until completely smooth. Measure out 3 tablespoons for the cake and 3-4 tablespoons for the frosting. Discard the remains, pour over ice cream or eat with a spoon!

In a medium bowl, whisk together the 3 tablespoons strawberry purée, milk, egg and vanilla extract.

In a separate bowl, whisk together the flour, sugar, baking powder and salt. Whisk in the softened butter until well combined. Add the strawberry mixture and mix until fully combined. If you want the strawberry cake to be pink, add a few drops of red or pink food coloring and mix until no streaks remain. Otherwise, the cake will be a very faint pink color after baked.

To assemble the cupcakes, place about 2 tablespoons of the chocolate cake batter on the bottom of each prepared cupcake well. Make sure the chocolate is spread over the entire bottom. Then, carefully place about 2 tablespoons of the strawberry cake batter on top of the chocolate. Carefully spread the strawberry batter so it covers the chocolate. To finish, place about 2 tablespoons of the vanilla cake on the top, spreading to cover the strawberry mixture. (Don't worry too much about it being perfect, just look at mine!)

Bake in the preheated oven for 20-25 minutes, or until a toothpick inserted into the center comes out with a few clinging crumbs. Let cool for about 10 minutes, then remove the cupcakes and transfer to a cooling rack. Let cool completely before frosting.

When the cupcakes are completely cool, carefully cut a small cone out of the center of each cupcake, making sure to save the cones. Spoon in about 2 teaspoons of strawberry jam. Place the cones back into the holes. If need be, cut the bottom off the cone so they will lay flat.

To make the strawberry frosting, i

n the bowl of a stand mixer, beat the cream cheese and butter until smooth. Add the strawberry purée. On low speed, slowly mix in the confectioner's sugar. Beat on medium high speed until smooth and fluffy, 3-4 minutes. Place the frosting in a bag and pipe as desired onto cupcakes.

Decorate with fresh strawberries if desired. Serve at room temperature, but store in the refrigerator over night. Enjoy!