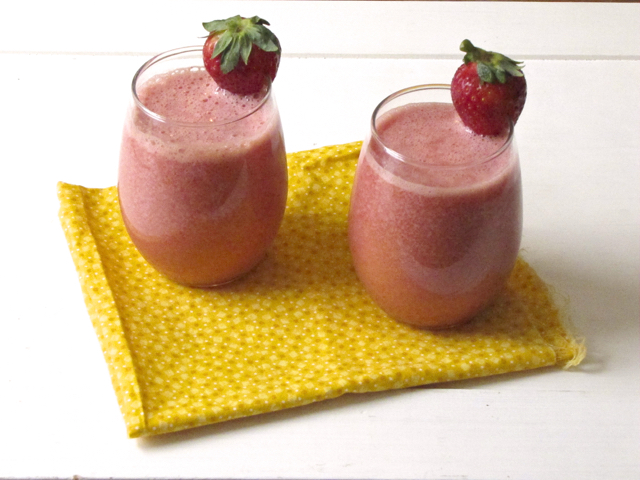 Happy Valentine's Day! I hope everyone is having a romantic, happy day! Our weather isn't very celebratory. We got a couple inches of snow last night, which then turned to rain, and is still pouring this morning. But, at least it's above freezing for the first time in a few weeks!
I wanted to share this new favorite recipe of mine. My brother gave me the brilliant idea one family brunch of mixing orange juice and sparkling cider together instead of champagne. So, I thought, why not amp it up a bit and add strawberries!? Oh my, even my husband was asking for seconds. I could probably finish a whole bottle of sparkling cider myself if it wouldn't give me a belly ache. This would be a perfect addition for breakfast in bed for a loved one, or to any brunch, breakfast, after dinner treat. Heck, I would drink this any time of day, any time of year! I can just envision sitting outside in the summer sun with a glass of this….
---
Island Bakes Original
Non-Alcoholic Strawberry Bellini
These fun, non-alcoholic drinks are perfect for all ages. With sparkling cider, orange juice and fresh strawberries, it's sweet and satisfying.
Ingredients
2 cups orange juice
1 cup strawberries, fresh or frozen
3/4 cup sparkling cider
fresh strawberries for garnish (optional)
Instructions
Place all ingredients into a blender. Process until smooth. Pour into glasses, garnish with fresh strawberries if desired, and serve.