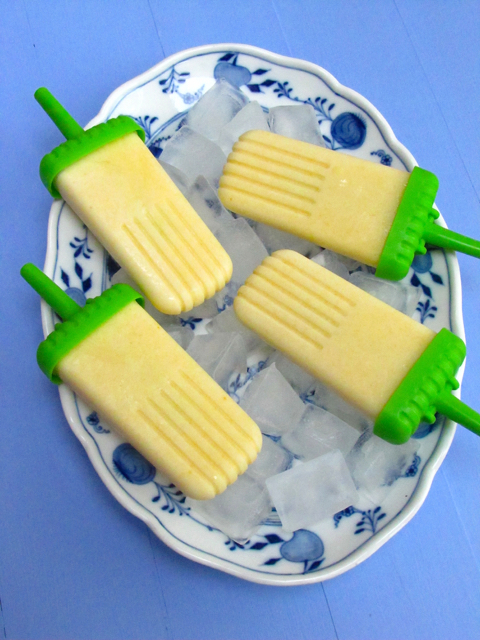 Popsicles are a favorite treat in the summertime. Generally, they can be guilt free and a great way to cool off after being in the hot sun. I was at TJ Maxx a few weeks ago and saw popsicle molds on sale. I immediately grabbed a box. I couldn't resist. (I can barely resist anything in the kitchen department there!) Now, I had an excuse to make homemade popsicles!
End of pregnancy (I am 39 1/2 weeks!) has had me craving fruit. Maybe the warm weather has too. I had some fresh, juicy oranges in the refrigerator that were just yelling to be used for popsicles. I wanted something creamy and refreshing. These popsicles totally hit the spot. A perfect way to relax on one of our first actually hot days of pulling bulbs out of the hard pan in the garden.
---
Island Bakes Original
Orange Popsicles
These sugar free popsicles are a fun summer treat to cool off with.
Ingredients
3 oranges, peeled and quartered
1 cup yogurt (I used Stonyfield, whole milk plain yogurt)
2 Tablespoons honey (If you like yours particularly sweet, add more honey or a little granulated sugar)
zest of 1 orange
1 cup half and half
Instructions
Prepare popsicles by placing all ingredients in a blender or food processor. Blend until completely smooth. Pour into popsicle molds (or you could use little dixie cups with popsicle sticks inserted in the center half way through freezing). Freeze until hard. Enjoy!