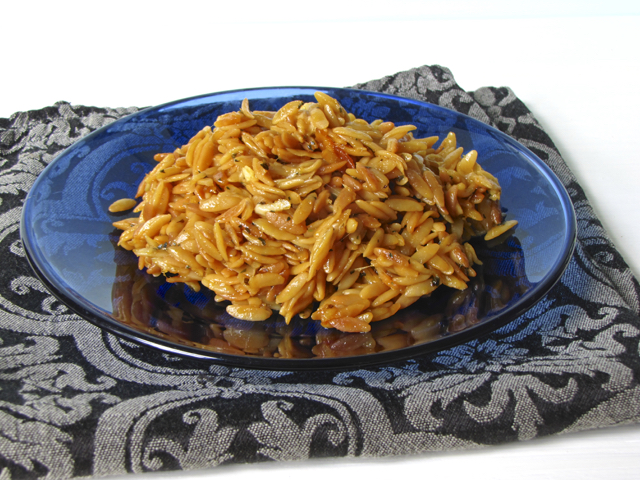 I feel bad that I haven't blogged about this recipe sooner! This is one of my all-time favorite pasta dishes. Something about orzo is so cute. This dish is incredibly simple, but oh so tasty. I am huge parmesan cheese fan, if you couldn't tell by many of my recipes. The fact that there is enough parmesan cheese in this recipe to make it stringy, makes me giddy. My husband always says that I ruin good plain pasta by grating an excess amount of parmesan cheese on it. I don't know what he is talking about…
---
Recipe adapted from Smells Like Home
Orzo with Parmesan and Basil
Super cheesy orzo that has been toasted and cooked until tender. Tossed in Parmesan cheese and fresh basil, this makes a great side dish to any meal.
Ingredients
2 Tablespoons butter
1 cup uncooked orzo pasta
1 3/4 cups low-sodium chicken or vegetable broth
1/2 cup grated Parmesan cheese
1/4 cup chopped fresh basil (or 2 Tablespoons dried)
salt and pepper to taste
Instructions
Melt the butter in heavy skillet over medium-high heat. Stir in the orzo and sauté until lightly browned about 4-5 minutes, stirring occasionally.

Stir in the chicken broth and bring to boil. Cover. Reduce the heat and simmer until orzo is tender and liquid is absorbed, about 15-20 minutes.

Mix in the parmesan cheese and basil. Season with salt and pepper. Serve, garnishing with more basil if desired.