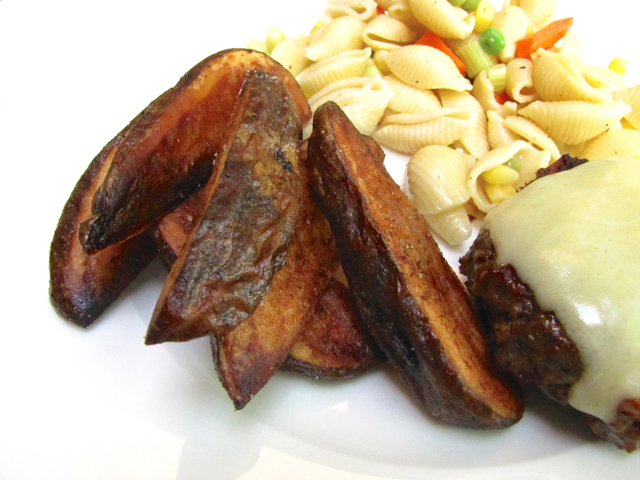 Fries are always a favorite in my house. I don't make them very often, but when I do, everyone comes running. They are my favorite side to a big ol' juicy burger. (Hello drive-in's anyone?). After seeing a version for baked fries instead of fried, I had to try them immediately. Who doesn't love a healthier version of our favorite fried weakness? These are crispy and delicious. Just the way fries should be!
---
Recipe from The America's Test Kitchen Healthy Family Cookbook
Oven Fries
Simple thick russet fries that are baked until crispy on the outside, but tender on the inside.
Ingredients
3 russet potatoes, scrubbed and cut lengthwise into 10-12 even wedges
1/4 cup plus 1 teaspoon vegetable or grapeseed oil
Instructions
Adjust the oven rack to the lowest position and heat the oven to 475ºF.

Place the potatoes in a large bowl and cover with hot water. Let soak for 10 minutes.

Meanwhile, coat a large rimmed baking sheet with 1/4 cup oil and sprinkle evenly with 1/2 teaspoon salt and 1/4 teaspoon pepper.

Drain the potatoes and pat dry thoroughly with paper towels. Toss the dried potatoes with the remaining teaspoon oil. Place on the baking sheet in a single layer. Cover tightly with foil and bake for 5 minutes. Remove the foil and continue to bake until the bottoms of the potatoes are spotty golden brown, 15-20 minutes, rotating pan after 10 minutes.

Flip the potatoes with tongs, making sure to keep them in a single layer. Continue to bake until the fries are golden and crisp, 7-10 minutes longer. Rotate pan as needed if fries are browning unevenly. Drain briefly on paper towels. Season with salt and pepper to taste and serve hot.