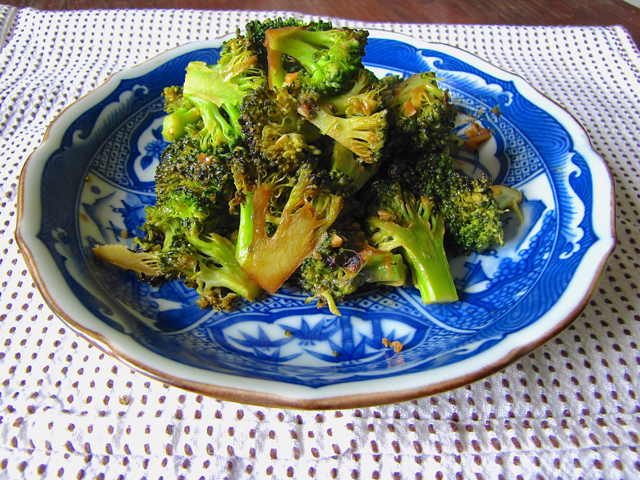 When I first starting really cooking in the kitchen, side dishes were something of a mystery to me. I guess maybe because I never really thought about it as a kid. All I remember is there being some form of vegetable on my plate that I rarely wanted to eat.
I wasn't picky or anything.
So, I started side dishes with frozen vegetables. Primarily, corn, peas and green beans.
Boring.
As I gained more courage and knowledge in the kitchen, I started to branch out. I even tried broccoli (gasp!), eggplant (ick) and many more fresh vegetables that I wouldn't even have dared to try as a kid.
What has really helped me along with side dishes is my go-to, all-time favorite cookbook. How can you not trust a kitchen that is dedicated to trying a recipe over a hundred times until it is just right? There is an awesome vegetable section that I use constantly. It has made me love and appreciate vegetables much much more. I mean really, who wants a vegetable that isn't properly cooked?
(*Note: I do not have any affiliation with America's Test Kitchen, they don't even know who I am!)
---
Recipe adapted from The America's Test Kitchen Healthy Family Cookbook
Pan Roasted Broccoli with Asian Flavors
This broccoli side dish will make you love your trees again. With wonderful soy sauce and sesame oil mixed with peanut butter, this makes for a super flavorful dish.
Ingredients
2 teaspoons grapeseed oil
2 medium broccoli heads, cut into florets with stems discarded
4 Tablespoons water, divided
1 Tablespoon creamy peanut butter
1 Tablespoon sesame oil
1 Tablespoon soy sauce
1 Tablespoon rice vinegar
1 Tablespoon minced fresh parsley or 1 teaspoon dried
2 garlic cloves, minced
1 teaspoon brown sugar
Instructions
Heat 2 teaspoons of the grapeseed oil in a 12-inch nonstick skillet over medium-high heat until just smoking. Add the broccoli and cook, without stirring, until they are browned on the bottoms, about 2 minutes.

Add 3 tablespoons of water, cover, and cook until the broccoli is bright green, but still crisp, about 2 minutes. Uncover and continue to cook until the water has evaporated and the broccoli is tender, about 2 minutes.

Meanwhile, in a small bowl, whisk together until smooth the peanut butter, sesame oil, soy sauce, rice vinegar, parsley, 1 tablespoon water, garlic and brown sugar.

Off the heat, toss the peanut butter mixture with the broccoli. Season with salt and pepper to taste and serve.