It's amazing how my love of pasta has grown and developed over the years. As a kid, I only really liked pasta with butter and a large serving of parmesan cheese. And nothing else, thank you very much.
Now that I am an adult, I have come to appreciate the amazing things you can do with pasta. One of my favorite combinations is pasta with chicken. Chicken being my favorite choice of meat, that really comes to no surprise.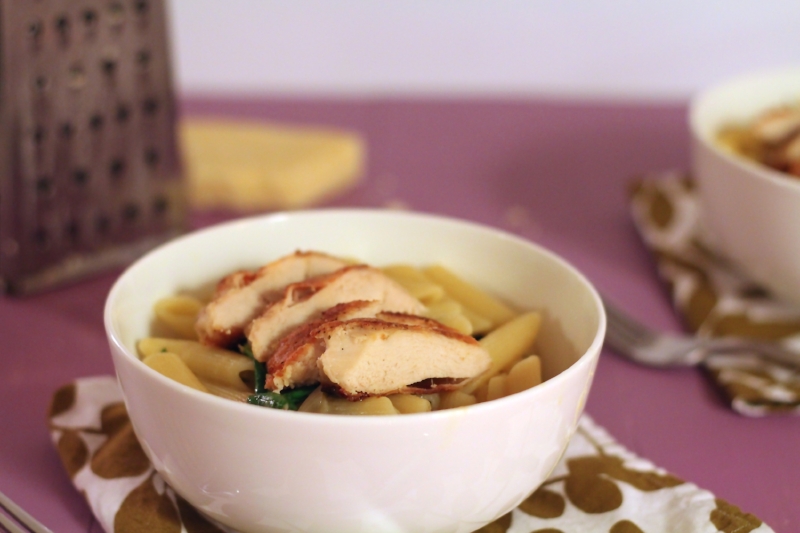 This summer I purchased a cookbook that is all pasta recipes. I couldn't wait to read through it and see what goodies were in there. I have made several recipes from it, and so far, they all have been excellent. This one particularly stands out. I have made it twice already! The garlic really shines through in a lovely light sauce. The chicken is tender and flavorful. I decided to swap out the arugula for spinach because I am really not a fan of it. My husband, who occasionally has a blind eye for left overs, came home for lunch the following day and finished off the dish! It is super tasty, really easy, and loved by all in my family. This recipe makes it an easy and great way to vamp up a pasta dinner that could otherwise be boring.
---
Recipe adapted from The Pasta Revolution
Pasta with Garlicky Tuscan Chicken
Pasta tossed in a creamy garlicky sauce with sautéed spinach and topped with chicken. This is a great pasta dish for any time of the year.
Ingredients
3 (6-8 oz.) boneless, skinless chicken breasts
salt and pepper
1/2 cup plus 1 Tablespoon all-purpose flour, divided
3 Tablespoons olive oil or grapeseed oil, divided
12 garlic cloves, thinly sliced
3 shallots, thinly sliced
pinch of red pepper flakes
3/4 cup dry white wine
3 cups low-sodium chicken broth
1 lb. penne
5 oz. baby spinach
1 1/2 oz. (3/4 cup) grated Parmesan cheese, plus more for serving
1 Tablespoon lemon juice
Instructions
Pat the chicken dry with a paper towel. Season both sides with salt and pepper. Place 1/2 cup flour in a shallow dish. Dredge the chicken through the flour, shaking off any excess. Set aside.

Heat 2 tablespoons of the oil in a large skillet over medium-high heat, just until smoking. Carefully lay the chicken in the skillet and cook until well browned, about 6-8 minutes. Flip the chicken over and reduce the heat to medium and continue to cook until the chicken registers 160ºF with an instant-read thermometer. Transfer to a plate and tent with tin foil.

Add remaining 1 tablespoon of oil to the now empty skillet, along with the garlic and shallots. Cook over medium-low heat until softened and beginning to brown, about 3 minutes. Stir in the red pepper flakes and remaining 1 tablespoon of flour and cook for 30 seconds. Whisk in the wine and broth. Increase the heat to medium-high and bring to a simmer. Cook at a simmer until the sauce is slightly thickened and measures 2 1/2 cups, about 15 minutes.

Meanwhile, bring 4 quarts of salted water to a boil in a large pot. Cook the pasta until al dente. Reserve 1/2 cup of the pasta water, then drain the pasta and return it to the pot. Stir in 2 cups of the garlic sauce, Parmesan cheese, lemon juice and spinach. Stir until the spinach is wilted. Add reserved cooking water as needed to adjust consistency. Season with salt and pepper to taste.

To serve, thinly slice the chicken on the bias. Divide the pasta between individual serving bowls. Lay the chicken over the top and drizzle remaining 1/2 cup sauce over each bowl. Serve with extra Parmesan cheese.