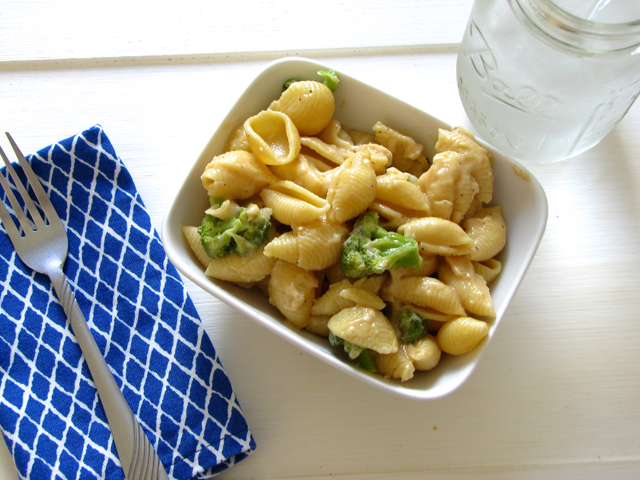 Now that the mornings and evenings are getting chilly enough that I am turning the heater on and putting an extra layer on, I have started to crave comfort food. Which means to me, soup, bread, and pasta dishes. My favorite things about fall (beside the start of comfort food again) are the spectacular colors of the leaves, and the fresh crisp air. Living on an island, the ocean air changes are very noticeable. I love it!
To kick off comfort food season, I wanted to share one of my favorite simple pasta dishes. It is creamy, cheesy and delicious. I have been making this dish for quite some time, and it is still a favorite in my house! I mix it up every time I make it. Occasionally, I will throw in roasted red peppers if I have some left over in the fridge, or cooked and cut up chicken breasts are a wonderful addition. I think I have even put shredded carrots in this before! (I might not recommend that though, I don't think it was the greatest!) You can certainly substitute all broth for the wine, or even water. I have definitely done that since we don't have wine in the house usually.
---
Recipe adapted from Annie's Eats
Pasta with Roasted Garlic, Cheddar and Wine Sauce
Cook Time:
1 hour
10 minutes
Total Time:
1 hour
20 minutes
Pasta tossed in a garlicky, cheesy sauce with broccoli and chicken. It's a great meal that all ages will love.
Ingredients
1 lb.pasta, such as penne or shells
3 Tablespoons butter
roasted garlic paste*
3 Tablespoons flour
1/2 cup dry white wine or broth
2 cups low-sodium chicken or vegetarian broth
2 cups shredded white cheddar cheese
2 heads of broccoli, cut into florets and blanched until crisp-tender
Salt and pepper, to taste
optional: cooked chicken pieces, roasted red peppers
Instructions
*To make roasted garlic paste, peel the outer papery skins off two heads of garlic, leaving the heads still intact. Slice the top off of each head so the cloves are exposed. Drizzle with olive oil. Wrap the heads in foil and bake at 350ºF for one hour. Remove from the oven and let cool. Once cool enough to handle, squeeze the garlic cloves out of the peels and smash with a fork to make roasted garlic paste.

Bring a large pot of salted water to a boil. Cook the pasta until al dente according to the package directions.

Meanwhile, in a large skillet over medium heat, melt the butter. Once the butter is melted, whisk in the roasted garlic paste and cook until fragrant, about 45 seconds. Whisk the flour into the butter mixture and cook, stirring constantly, until the mixture begin to turn golden brown, 1-2 minutes. Stir in the white wine (or additional broth) and broth into the pan. Bring to a simmer and cook, stirring frequently, until slightly thickened, about 5 minutes. Whisk in the cheddar and stir until melted. Season with salt and pepper to taste.

Mix in the broccoli florets and any optional add-ins. Mix the sauce in with the pasta and stir until evenly coated. Serve warm.