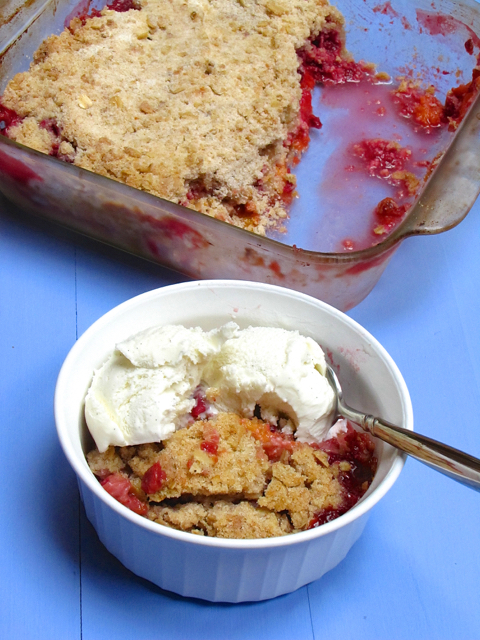 So a week or so ago, a friend and I were taking a walk together with our kiddos. We got talking about the local farmer's market and some of the goodies sold there. She was telling me how she was going later in the day to get some seconds peaches that a local farm couldn't sell because they were too small or imperfect. I immediately got really excited because after making peach jam last year, I really wanted to make some more this year. So, being the good friend she is, she offered to get me one of her boxes. Oh man, I was so excited. 10 lbs. of peaches for super cheap just waiting to be made into something delicious.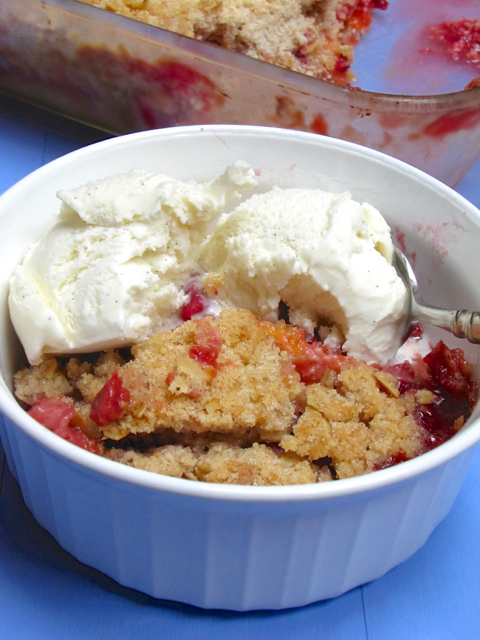 I had originally planned on making peach jam and butter, but I didn't have quite enough for both. So instead, I made jam and this crumble. This definitely did not disappoint. I used frozen raspberries because that is what I had on hand. I served this warm with a side of vanilla ice cream. Each bite was like summer at its peak. I wish I had had more peaches to make a double!
---
Recipe from Joy the Baker
Peach and Raspberry Crumble
Tender summer peaches and raspberries are mixed together in this sweet filling topped with a oat crumble topping. This is great served warm with a big scoop of vanilla ice cream.
Ingredients
5-6 medium ripe peaches, sliced, peeled or unpeeled
1 cup fresh or frozen raspberries
For the topping
1 cup all-purpose flour
1 cup granulated sugar
3/4 cup old fashioned oats
1 teaspoon ground cinnamon
1/8 teaspoon ground allspice
pinch of salt
1/2 cup (1 stick) unsalted butter, chilled and cut into small cubes
Instructions
Preheat to 350ºF. Place sliced peaches and raspberries in an 8x8-inch baking dish and set aside.

In a medium bowl, whisk together the flour, sugar, oats, spices, and salt. Add the butter and toss the mixture together with your hands. Break the butter up into the flour mixture until the butter is the size of peas.

Toss about 1 cup of the crumble topping into the peach and raspberry mixture. Toss loosely with a wooden spoon. Spread fruit evenly in the pan and top with the remaining crumble mixture. Bake until fruit is juicy and bubbling, and the top of the crumble is slightly browned and crisp, about 30 minutes (add another 10 minutes or so if using frozen raspberries).

Remove from the oven, let cool slightly, and serve with vanilla ice cream. Store in the refrigerator, reheating in the oven or microwave before serving.