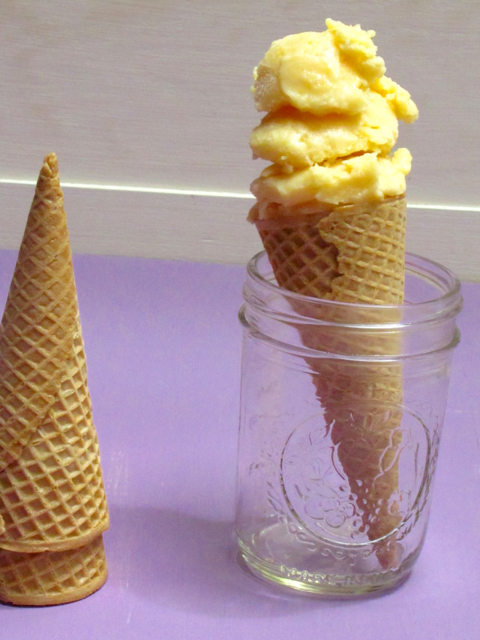 Stone fruits are something I don't really like to eat plain. Baked or combined with something else? I can't get enough of them! I had a handful of peaches that all got ripe at the same time, so I wanted to make something with them before they went bad. It being summer and national ice cream month, I knew that a frozen treat was just the thing.
This frozen yogurt is worthy of your time. It is just bursting with peach flavor. Oh my word, I wanted another bowl right after I finished the first! It is so easy and incredibly addicting. And since it's frozen yogurt, it's healthier, right?
---
Recipe from The Perfect Scoop, by David Lebovitz
Peach Frozen Yogurt
Creamy summer peaches are mixed into this simple frozen yogurt. A great cooling-off treat for the middle of summer.
Ingredients
1 1/2 lbs. ripe peaches (about 5 large peaches)
1/2 cup water
3/4 cup sugar
1 cup plain whole-milk yogurt
a few drops lemon juice
Instructions
Peel the peaches, slice in half and remove the pits. Cut the peaches into chunks and place them with the water in a non-reactive saucepan over medium heat. Cover. Stirring occasionally, cook until soft and cooked through, about 10 minutes. Remove from the heat, stir in the sugar, then chill thoroughly in the refrigerator.

When the peaches are cool, purée them in a food processor or blender with the yogurt until almost smooth but still slightly chunky. Mix in a few drops of lemon juice.

Freeze the mixture in your ice cream maker according to the manufacturer's instructions.