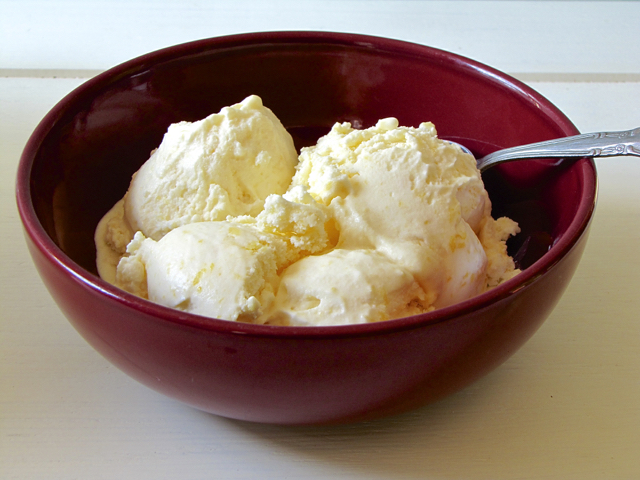 I find it hard to believe that the month of July is over. It has completely flown by. A couple of highlights of the month for me were, my daughter's fourth birthday, my best friend from high school came to visit, and days filled with sunshine, strawberries and the beach. The way summer should be, in my opinion! And to top it off, the past week the weather has cooled down significantly. Which has been just wonderful!
I bring to you, the last of my National Ice Cream Month recipe. But don't worry, it is not the last ice cream recipe that I will ever post! It's strange, I am not actually a huge fan of eating a peach like an apple. Alongside anything else, I am completely converted!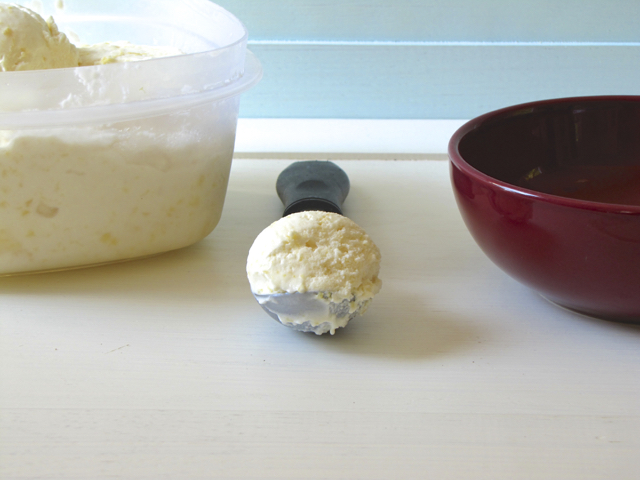 This ice cream is dreamy. I love how it has little chunks of peaches among the creaminess. I am sure that you could even put more peaches into the ice cream than called for if you are a peach lover. Lucky for me, my husband doesn't like peaches, so I got to eat the whole thing of ice cream by myself, so there was plenty for the kids and I.
Make sure the peaches are absolutely ripe, or you will lose the fresh flavor and the ice cream won't taste very good! And don't be afraid of the sour cream. You won't even notice it, it just adds the creaminess. Enjoy!
---
Recipe from The Perfect Scoop, by David Lebovitz
Peach Ice Cream
Juicy summer peaches come together in this creamy ice cream for a lovely summer treat.
Ingredients
1 1/3 pounds ripe peaches (about 4 large)
1/2 cup water
3/4 cup sugar
1/2 cup sour cream
1 cup heavy cream
1/4 teaspoon vanilla extract
A few drops of freshly squeezed lemon juice
Instructions
Peel the peaches, slice them in half, and remove the pits. Cut the peaches into chunks and cook them with the water in a medium, nonreactive sauce pan over medium heat, covered, stirring once or twice, until soft and cooked through, about 10 minutes.

Remove from the heat, stir in the sugar, then cool to room temperature.

Purée the cooked peaches and any left over liquid in a blender or food processor with the sour cream, heavy cream, vanilla extract and lemon juice until almost smooth but slightly chunky.

Chill the mixture thoroughly in the refrigerator, then freeze it in your ice cream maker according to the manufacturer's instructions.