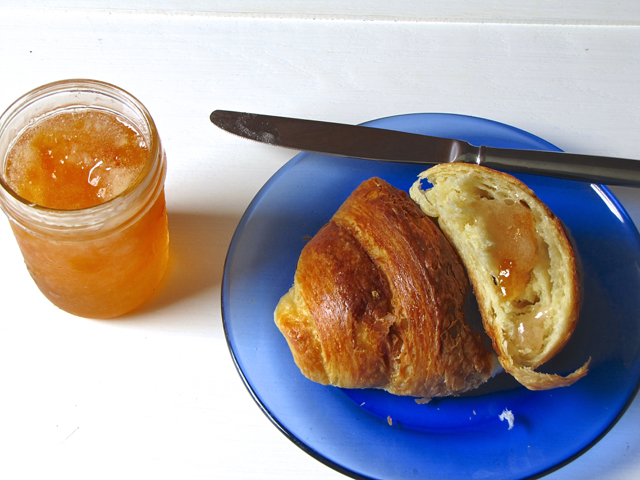 Lately, I have been hoarding the last of summer fruit as much as I can. My favorite way to preserve summer fruit (other than consuming immediately), is to can it. Preferably as jam. We use a lot of jam in our house (mainly several sandwiches a day for my husband's lunch). My favorite type of lunch is good ol' PB&J with a large slather of jam.
Moving onto this jam. It is delicious, spoon-licking good. Like, I could seriously eat an entire jar of jam with a spoon. It is that good. Peaches are something I don't particularly like to eat, but this jam was out of this world. Even my husband, who claims to not like peaches, loved this jam. It goes with everything! I have made sandwiches with it, smeared it on croissants, mixed it in with vanilla ice cream…you name it!
This recipe is probably one of the easiest canning recipes I have ever used. This would be great for beginners.
---
Recipe from Ball Blue Book Guide to Preserving
Peach Jam
Preserve summer fresh peaches by making this jam that you'll want to slather on everything all winter long.
Ingredients
1 quart (about 5-6 large) peaches (yellow or white flesh colored) peeled, pitted and finely chopped
7 1/2 cups sugar
1/4 cup lemon juice
1 pouch liquid pectin
Instructions
Prepare canner and sterilize 7 half-pint jars with rings and lids. Keep jars hot in canner until ready to use.

In a large saucepan, combine the fruit, sugar and lemon juice. Slowly bring to a boil over medium heat, stirring until sugar dissolves. When the mixture comes to a boil, stir in the liquid pectin. Return to a rolling boil. Boil hard for 1 minute, stirring constantly. Remove from heat and skim foam if necessary.

Ladle the hot jam into the prepared jars, leaving 1/4 inch headspace. Wipe the jar rims clean with a damp cloth. Place the tops on the jars and lightly screw on the rings. Place the jars back in the canner, cover, bring to a boil and process for 10 minutes. Carefully remove the jars from the canner and place on a wire rack or cloth. Let sit until completely cool. Test the seal of each jar by very gently pulling on the tops. If they don't come off, then they are sealed! Label and store in a cool, dry place for 1-2 years.