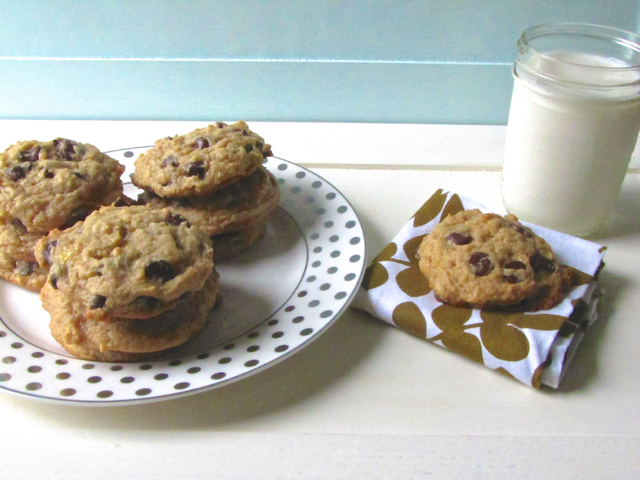 What a strange sounding combination, eh? I thought so too. Then one day, I had an overabundance of overripe bananas that desperately needed attending to. So, I said what the heck! Why not try it out.
These did not disappoint. The bananas made the cookies so moist. The cookies weren't overly sweet, which is a nice change sometimes. The chocolate chips made them extra special. These are great cookies to have your kids help you make. My daughter was pretty excited to be my little helper.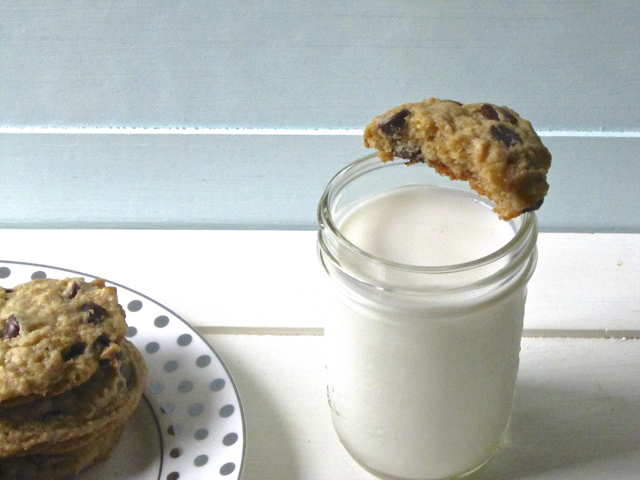 These are best eaten within a few days of baking. But trust me, that won't be a problem!
---
Recipe adapted from How Sweet It Is
Peanut Butter Banana Chocolate Chip Cookies
Bananas yield a wonderfully moist and tender cookie that turns into a beloved flavor combination of chocolate and peanut butter. An unusual cookies that all ages will love.
Ingredients
2 cups, plus 2 Tablespoons all-purpose flour
1/2 teaspoon baking soda
1/4 teaspoon salt
8 Tablespoons of unsalted butter, melted and cooled
6 Tablespoons of creamy peanut butter, warmed
1 cup brown sugar
1/2 cup granulated sugar
1 egg yolk
2 teaspoons vanilla extract
1 1/2 ripe medium bananas, mashed
1 1/4 cups milk or semi-sweet chocolate chips
Instructions
Preheat oven to 325ºF. Have ready two ungreased, nonstick baking sheets.

Mix the flour, salt and baking soda in a bowl and set aside. In another large bowl, whisk together cooled peanut butter and butter with both sugars until combined. Whisk in egg yolk and vanilla extract until smooth. Add in the mashed banana and mix until combined. Gradually add in the dry ingredients, mixing with a large spoon until a dough forms. Fold in the chocolate chips.

Scoop a couple tablespoonfuls of the dough onto the cookie sheet, about 2 inches apart from each other. Bake for 10-12 minutes, until the edges are golden and the middles are puffy; do not overbake! Let cool completely.