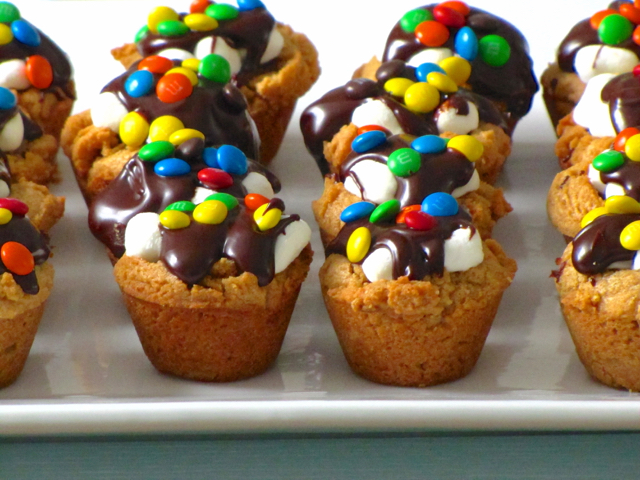 So my kids had their usual Valentine's Day party with their daycare. (I know, I am like a month over-due posting this recipe, I apologize!) Like always, I opt to make a dessert because I can have so much more fun with it. It's an excuse to make something a little more special. This year, I decided not to go with a traditionally themed dessert. I decided that I was a little over pink and the holiday being so girly. Hello, what about the boys!?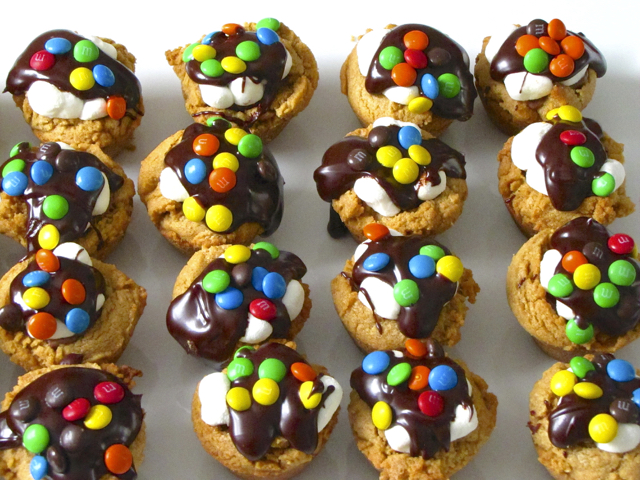 So, I decided to make this dessert which had been forgotten in my recipe book. I haven't made these in years, and I can't understand for the life of me why not! These are absolutely amazing. I didn't come home with a single one from the party. I had many people ask me if I made them. And then exclaim that I shouldn't have! These are a huge hit with kids and adults alike. Creamy, peanut buttery, chocolate heaven. They are cute and colorful too! These are the perfect little dessert for a party or just for daily consumption! A nice little change-up/upgrade from regular cookies.
---
Recipe from Annie's Eats, cookies originally adapted from Picky Palate and ganache from Baking: From My Home to Yours, by Dorie Greenspan
Peanut Butter Cup Surprise Cookies
These dessert cups are a peanut butter cookie filled with mini marshmallows, topped with chocolate ganache and mini m&m's. A fun treat for all ages.
Ingredients
2 cups creamy peanut butter
2 cups sugar
2 large eggs
24 mini Reeses peanut butter cups, unwrapped
mini marshmallows
4 oz. bittersweet chocolate, finely chopped
1/2 cup heavy cream
2 Tablespoons sugar
2 Tablespoons water
mini M&Ms
Instructions
Preheat the oven to 350ºF. Grease 24 wells of a mini-muffin pan. Set aside.

In the bowl of a stand mixer, combine the peanut butter, sugar and eggs. Beat until well combined. Divide the dough evenly between the prepared mini muffin wells (I usually have a bit left over, but do so to leave room for the candy). Make an indentation in the center of each dough ball. Bake for 13-15 minutes, until almost done. Remove from the oven and press a peanut butter cup into the center of each cookie until it is flush with the top of the dough. Top each cookie with 3-4 mini marshmallows. Return the pan to the oven and bake 2-3 minutes more, until the marshmallows have puffed up. Transfer the pans to a wire cooling rack and allow the cookies to cool completely in the pan before removing them.

Once the cookies are completely cooled, transfer them to a wire rack over a sheet of wax paper or aluminum foil.

Place the chopped chocolate in a small bowl. Bring the cream, sugar and water to a boil, then pour the liquid over the chocolate and let sit for 30 seconds. Gently whisk the mixture together until smooth. Leave the glaze to sit until it thickens a bit to your desired consistency, then drizzle over the tops of the cookies. Sprinkle with mini M&Ms before the glaze hardens.

Store in the refrigerator, but serve at room temperature.