So peppermint patties are my absolute favorite type of candy. When I was pregnant with my first child, all I ever wanted were peppermint patties. Something about the cool mint was very refreshing and satisfying. I love the chocolate-peppermint combo. Since I love peppermint patties so much, I wanted to see if I could make them at home and bypass all the artificial flavors and additives found in the store bought candy.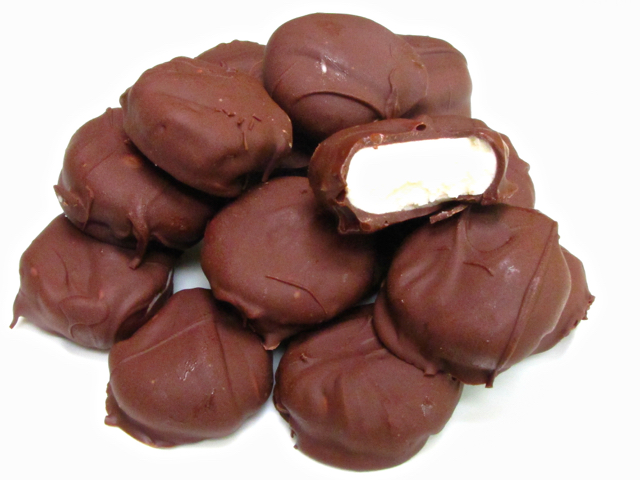 I am in love. I don't know if I could ever go back to store bought. These are phenomenal. I like to store mine in the freezer, which makes them last longer (well they would last longer if I didn't eat them all). I did NOT want to share these with my husband. I totally hoarded these. A perfect little bite-sized treat.
---
Recipe from How Sweet It Is, originally adapted from Joy of Baking
Peppermint Patties
Homemade beloved peppermint patties are a more flavorful version than anything store bought. Make a big batch and store in the freezer for a moment's treat.
Ingredients
4 cups confectioners' sugar
3 Tablespoons unsalted butter, softened
4 Tablespoons evaporated milk
1/2 teaspoon vegetable oil
1/2 teaspoon vanilla extract
1/4 teaspoon peppermint extract
3 cups milk chocolate or semi-sweet chocolate chips
Instructions
Prepare a baking sheet by lining with wax paper or silpat.

In an electric mixer, beat the powdered sugar, butter, evaporated milk, vegetable oil, vanilla extract and peppermint extract until smooth. Scoop into a bowl and place in the refrigerator to set, 30-60 minutes. Once firm, roll into one inch balls (if it sticks to your hands, cover your hands in powdered sugar), and place on the prepared baking sheet. Push down to flatten. Set in freezer for 1 hour, until hard.

Place chocolate chips in a bowl set over a pot of simmering water. Stir until completely melted. Remove the patties from freezer and dip in the chocolate, turning to coat all sides. Let excess drip back into the pot, then set on the baking sheet. Repeat with remaining patties. Place in the freezer and let completely freeze before serving, or storing in a ziplock bag in the freezer. These will last in the freezer for several weeks up to 2 months.