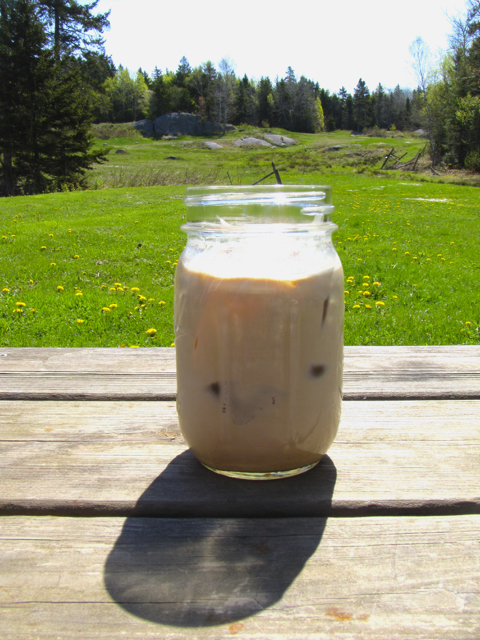 Ever since I stopped nursing my youngest child, coffee became my weakness. Well, that and ice cream. And cookie dough. But, that is a story for another day.
I love to wake up in the morning, have breakfast with the kiddos, then sit down with my steaming mug (in the winter), or my rich iced coffee, while the kids run around and play. Even if there is complete chaos in the house, sipping my coffee makes everything that much better and it all melts away. But, I think it also has become my love affair. Tired in the afternoon? No problem, have another cup of coffee! Nonetheless, it does make a great social bridge!
And it especially didn't help that some friends opened a local, organic coffee shop, 44 North. In fact, I have gotten so snooty about coffee now, that I don't like to drink any other kind! Anyway, this iced coffee will definitely put a spring in your step! It will last for ages in the fridge. And it totally beats throwing some ice cubes into leftover coffee! I got so excited about this coffee, I almost drank it all without taking a picture!
---
Recipe from The Pioneer Woman Cooks
Perfect Iced Coffee
Yield:
about 4 quarts of coffee
Homemade iced coffee that is wonderfully simple and makes plenty to have all week.
Ingredients
8 oz. good quality ground coffee
4 quarts cold water
Instructions
In a large container, mix the ground coffee with the water, making sure all the grounds are mixed in. Cover, and let sit at room temperature for 8 hours or overnight.

Line a fine mesh strainer with a few layers of cheesecloth and set over a large pitcher or another container. Pour the coffee mixture through the strainer, making sure no grounds get into the pitcher! Discard the grounds.
Notes
Store coffee in the fridge, up to a month.
To make great tasting iced coffee, pack a glass with ice cubes, pour in coffee and a hearty splash of half and half, and enjoy!