Grilled cheese is something that I have always been a fan of. And my kids. I mean, what kid doesn't like grilled cheese? A few years ago I invested in a panini press, and so I don't feel quite so guilty about serving grilled cheese for lunch because I can forgo the slather of butter on the bread. As much as I love a regular grilled cheese, I had the urge to spice it up a little. My sister actually gave me the idea when I was at her house for lunch one day. She served me something similar to this. After devouring the sandwich, I immediately wanted to go home and recreate my own sandwich.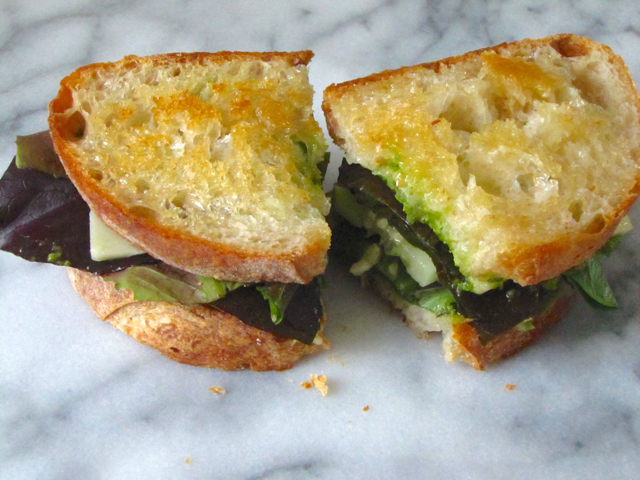 I basically made this pesto specifically for this sandwich. Oh my, I can't wait to make it for lunch again. This sandwich is epic. After eating one, I wanted another! It is wonderfully filling. And it is like having a salad and sandwich all in one. I used my favorite Tinder Hearth french batard, but you can use any bread that you have on hand. This will make any grilled cheese lover happy for lunch!
---
Island Bakes Original
Pesto Grilled Cheese
This epic grilled cheese is filled with fresh pesto, cheddar cheese, spinach, avocado and cucumber slices. It's everything a sandwich should be and more.
Ingredients
4 slices sandwich bread
4 Tablespoons basil pesto, store bought or homemade, divided
8 large, thin slices cheddar cheese, divided
1 cup baby spinach or desired lettuce, divided
8 slices cucumber, divided
8 slices avocado, divided
butter
Instructions
Heat a large skillet over medium-high heat. Lightly butter one side of each slice of bread. Spread about 1 tablespoon or more of pesto on each slice of bread on the unbuttered side. Place two slices of cheese on each piece of bread, on top of the pesto. Place the bread, buttered side down in the skillet. Toast the bread until the cheese is beginning to melt and the bread is light brown.

Remove the toasted bread from the skillet and place on a plate. To assemble the sandwiches, place 1/4 cup of spinach on each slice then layer with the cucumbers and avocados. Put the sandwiches together and consume!