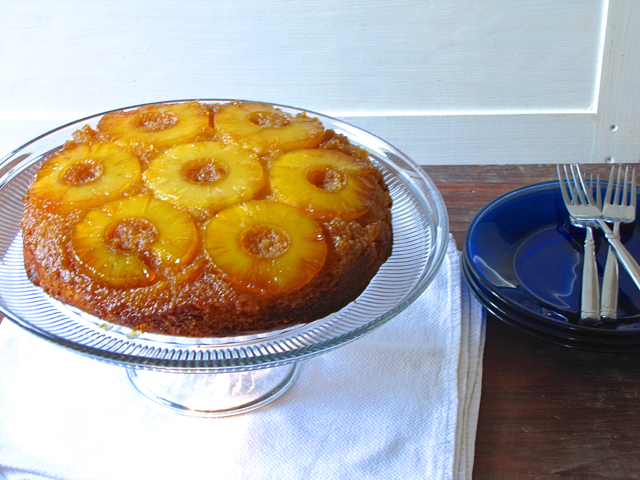 Last month, it was my mom's birthday. About a week or two in advance, I asked her what she wanted me to bake for her gift. Since my whole family was going to be there for dessert and presents, she requested two different desserts. Lemon squares (recipe to come) and pineapple upside down cake. The latter was her childhood favorite, which she has not had since she was a kid. Of course I had to make it for her! I got excited, because I have neither made nor tasted pineapple upside down cake before. Let me tell you, I had no idea what I was missing.
This cake is fluffy, light and amazing. Served with a scoop of vanilla ice cream or softly whipped cream, it's to die for. The flavor is out of this world. And it was so easy to make! This is a great way to break up the traditional birthday cake routine! I would definitely make this again, even if it was just for myself!
---
Recipe from Joy of Baking
Pineapple Upside Down Cake
A simple cake topped with pineapple slices yields a tender cake that is perfect served with whipped cream.
Ingredients
For the topping
4 Tablespoons unsalted butter, cut into small pieces
3/4 cup light brown sugar
1 medium pineapple, peeled, sliced 1/4 inch thick, or a large can of pineapple rings
For the cake
1 1/2 cups all-purpose flour
2 teaspoons baking powder
1/4 teaspoon salt
1/2 cup unsalted butter, at room temperature
1 cup granulated sugar
1 teaspoon vanilla extract
2 large eggs, separated
1/2 cup milk
1/4 teaspoon cream of tartar
Instructions
Preheat the oven to 350ºF. Grease a 9 inch round cake pan. Set aside.

For the topping, place the butter and sugar in a small saucepan over medium heat. Stir until the butter has melted and the sugar dissolved. Continue cooking, without stirring, until bubbles start to appear around the outside edges. Remove from the heat and pour into the prepared cake pan. Evenly arrange the pineapple slices on top of the sugar mixture.

For the cake, sift together the flour, baking powder, and salt in a large bowl.

In the bowl of an electric mixer, beat the butter and sugar until light and fluffy, about 3 minutes. Scrape down the sides of the bowl and beat in the vanilla extract. Add the egg yolks, one at a time, mixing well after each addition. Add the flour mixture in three additions, alternating with the milk, ending with the dry ingredients.

In a clean bowl, whisk the egg whites and cream of tartar together until it holds firm peaks. With a large spatula, gently fold the egg white mixture into the batter.

Pour the batter into the cake pan and smooth out the top. Bake for 40-50 minutes, or until the cake starts to brown and pulls away from the sides and a toothpick inserted into the center of the cake comes out clean. Remove from the oven and place on a wire rack for 10 minutes. Run a sharp knife around the edge of the cake and then invert the cake onto a serving platter. Serve with softly whipped cream or vanilla ice cream.

This is best the day it is made, but can be kept in the refrigerator for 3-4 days, bringing to room temperature before serving.