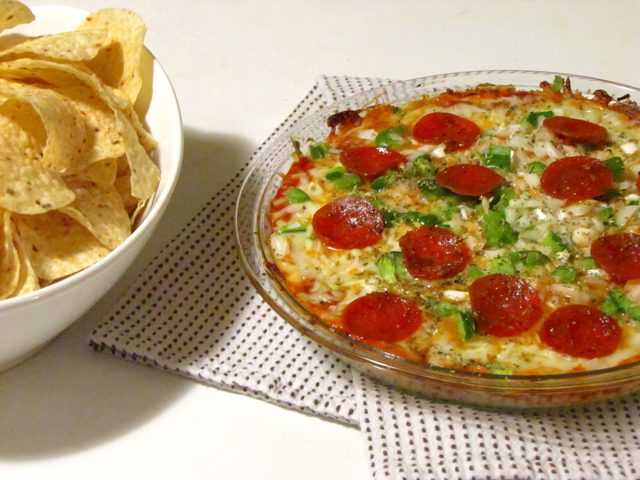 Pizza dip is one of my favorite dips. I was first introduced to it when a bunch of my girlfriends and I were getting together for a baby shower (we all seem to be having babies around the same time). This dip was always popular, and always at the multiple baby showers that were held. So, I was determined to attempt a version of the dip. Of course, I had to search around on all the blogs I follow, and sure enough, I found a recipe!
This dip is creamy, cheesy and delicious. I am pretty sure I ate like half of the dish. Even my husband, a cream cheese hater, loved the dip. The kids loved it to. Well, any excuse for them to have chips they love. You can put any toppings you like in this. Bacon I bet would be great, or olives if you are like that. This would definitely be a hit at a upcoming Super Bowl party, or for any gathering. Or just for yourself. I totally would.
---
Recipe adapted from My Baking Addiction
Pizza Dip
Creamy, cheesy pizza dip that is hot and perfect for dipping chips into.
Ingredients
8 oz. cream cheese, softened
1/4 teaspoon garlic powder
1/2 teaspoon dried oregano
1/2 teaspoon dried parsley
1/4 teaspoon dried basil
2 cups shredded mozzarella cheese
1 1/2 cups parmesan cheese
1 cup pizza sauce (I used roasted garlic spaghetti sauce, it was awesome)
1/4 cup chopped green bell pepper
1/4 cup chopped onion
2-3 ounces pepperoni (mini pepperoni would be perfect here)
Italian seasoning for garnish (optional)
Instructions
Preheat the oven to 350º F. Have a ready a 9-inch pie plate.

In a medium bowl, mix together the cream cheese, garlic powder, oregano, parsley and basil. Spread the mixture evenly over the bottom of the pie plate.

Sprinkle half of the mozzarella and parmesan cheese evenly over the cream cheese. Top with the pizza sauce. Then, sprinkle the remaining cheese over the sauce. Top with the chopped bell pepper, onion and pepperoni. If desired, sprinkle Italian seasoning over the top.

Bake in the preheated oven for about 20 minutes, or until the cheese is melted and bubbling. Serve with chips or baguette slices.