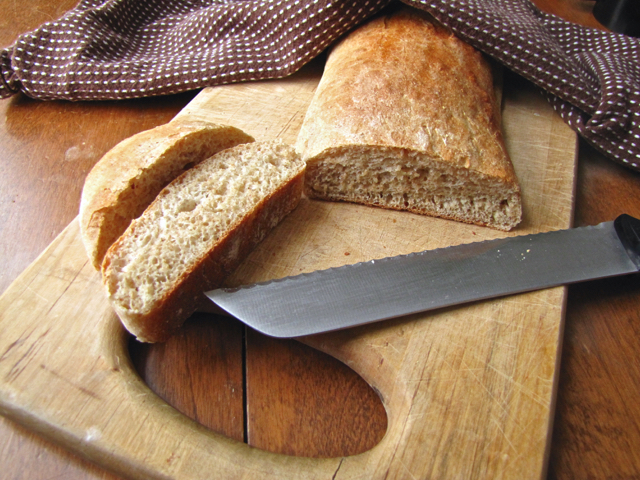 I have been making this quick and easy french bread for years. It is so simple and fast, that I tend to make it just a few hours before dinner. It's great if you want to dip it in soup, make garlic bread, or just to have with butter! You can spice it up by making a honey butter or a herbed butter..yum yum! I generally use one loaf and freeze the other. I definitely have taken a loaf out of the freezer after 6 months, put it directly in the oven to unthaw it and ate it. I didn't taste any difference!
---
Recipe from an old, long lost cookbook
Quick and Easy French Bread
This french bread is really simple and quick to make. A great bread for dipping in soup or slathering with butter while hot from the oven.
Ingredients
2 teaspoons (or 1 package) dry yeast
1 1/2 cups lukewarm water
1 Tablespoon sugar
2 teaspoons salt
3-4 cups unbleached all-purpose flour (can substitute whole wheat flour up to 2 cups)
cornmeal
1 egg white
Instructions
In a large bowl, dissolve the yeast in the water. Let sit until bubbly, about 5-10 minutes. Stir in the sugar and salt, then 2 cups of flour. Working the dough with your hands, add more flour until it won't absorb anymore. Turn the dough out onto a lightly floured surface and knead until it is no longer sticky, but smooth and elastic. Place dough in a greased bowl and cover with a damp cloth or plastic wrap, and let rise until double in size, about 1 hour.
Meanwhile, grease a baking sheet and lightly sprinkle with cornmeal. When the dough has doubled in size, punch down lightly, turn it out onto a lightly floured surface. Divide the dough in half and form each piece into a long, narrow loaf, about 2 inches in diameter. Place the loaves on prepared baking sheet. Cover with greased plastic wrap and let rise again for 30-40 minutes. (Do not let it rise longer than that because it tends to collapse if it rises too long)
Preheat the oven to 400ºF. Lightly beat the egg white with 1 tablespoon water. Brush the top of the loaves with the egg white glaze. Bake for about 15-20 minutes, or until golden brown on the top and when the bottom is knocked, it sounds hollow. Let cool for 10 minutes before slicing.
Notes
If freezing the bread, let cool completely, wrap well in plastic wrap and then tin foil. Don't forget to label it!