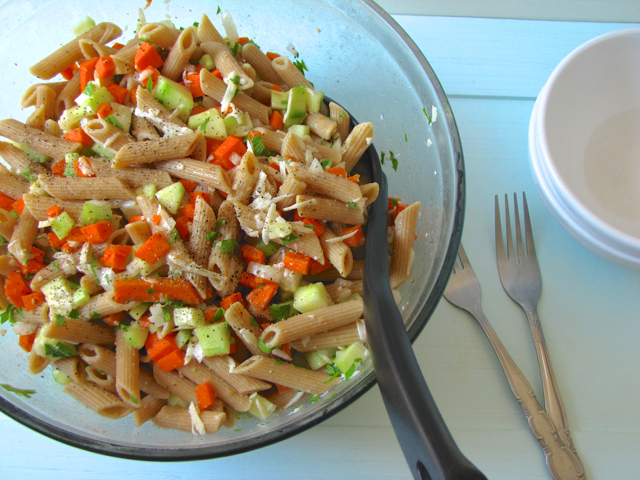 Ahhh, it's August! I can't believe that in a month school starts! My daughter is starting a pre-k program that is three days a week and my son will be starting daycare/preschool two days week. My daughter is so excited to make new friends. I am excited for her as well, but at the same time I want to cry! My babies are growing up.
Okay, enough of my sob story.
I thought that since we do have a little time before summer is officially over, I would share with you my favorite pasta salad. It is one of my favorite side dishes when we grill, or even when it's super hot out and I don't feel like cooking a big meal. This is easily a dish that you can play around with. You can add any of your favorite summer vegetables or herbs. I bet zucchini would go well in this dish, or a little summer squash? Yum. Chopped fresh basil? Now we're talking! Adults and kids will both be happy with this dish!
---
Island Bakes Original
Quick and Easy Pasta Salad
This simple pasta salad comes together rather quickly and is packed with vegetables. It's great for any summer BBQ.
Ingredients
16 oz. desired pasta (whole wheat or regular penne or spiral pasta both work great)
1 cucumber, peeled and chopped
3 stalks celery, chopped
1/2 onion, peeled and diced
3 carrots, peeled and shredded or chopped
1/4 cup fresh parsley, chopped
1/3 cup grated parmesan cheese
8-10 oz. parmesan and roasted garlic salad dressing (Newman's Own is my favorite)
Instructions
In a large pot, bring 4 quarts of salted water to a boil. Add the pasta and cook until al dente by the time instructed on the box. Drain and rinse with cold water to cool.

In a large bowl, combine the cooled pasta, cucumber, celery, onion, and carrots. Toss well with the parmesan and roasted garlic dressing. Top with parmesan cheese and parsley. Serve immediately, or if you prefer it be cooler, cover and refrigerate until cold. Store in the refrigerator.