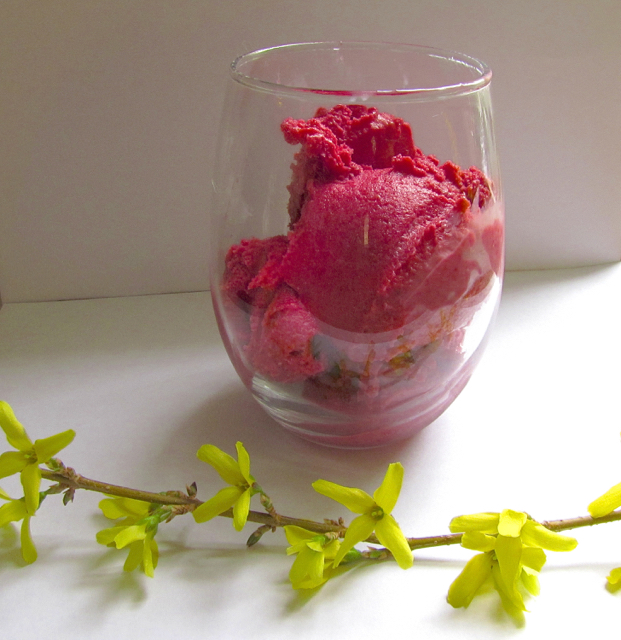 A few days ago, we had a beautiful, sunny, warm Spring day. Then the rain and chilly temperatures set in again. But, that day was pure bliss. The kids played outside all day, and I got to sit in the sunshine and catch up on some magazines while the kids napped. It was fantastic. Little hints of Spring are showing all around; my hyacinth are coming alive and probably going to bloom soon, my chives are turning green again, and there have been many sightings of unusual birds passing through. My daughter has been very excited about the birds, grabbing her little binoculars every chance she gets. Having forced forsythia in the house helps lighten the mood a little as well!
In result of a warm enough day to turn off the heater and open the front door for some fresh air, I had to make some ice cream. This raspberry sherbet is a beautiful, bright pinkish-red, with the taste of summer. It is super quick to throw together, and very few ingredients are needed!
---
Recipe from The Perfect Scoop, by David Lebovitz
Raspberry Sherbet
This raspberry sherbet only has 4 ingredients and is wonderfully simple. No cooking involved, this will become your go-to summer treat.
Ingredients
4 cups raspberries, fresh or frozen
2 cups whole milk
1 cup sugar
1 1/2 teaspoons freshly squeezed lemon juice
Instructions
Put the raspberries in a blender or food processor, along with the milk and sugar. Purée until smooth. Strain the mixture to remove the seeds (I opted out on this step because I don't mind the seeds!). Stir in the lemon juice.
Freeze the mixture in your ice cream maker according to the manufacturer's instructions.
Nutrition Information:
Serving Size:

1
Amount Per Serving:
Calories:

166
Total Fat:

2g
Saturated Fat:

1g
Trans Fat:

0g
Unsaturated Fat:

1g
Cholesterol:

6mg
Sodium:

27mg
Carbohydrates:

35g
Fiber:

4g
Sugar:

31g
Protein:

3g
Nutritional information is only an estimate.