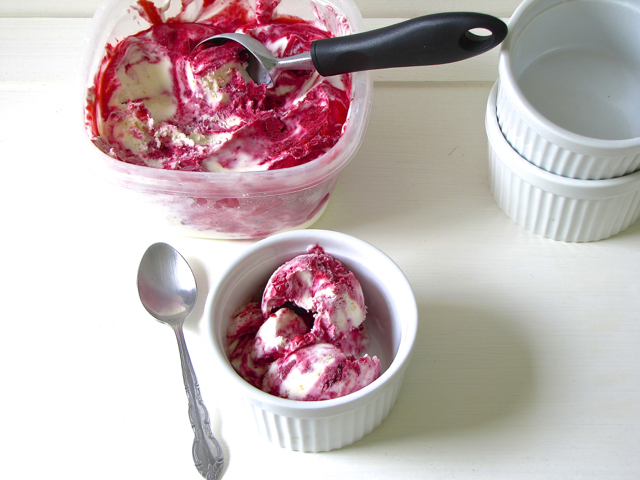 Happy first of July and national ice cream month! I can't believe we are already 7 months into the year 2013. I feel that time keeps speeding up the older I get. When I was a kid, everything seemed to last forever. Unless it was fun, of course. Remember those days of sitting in school watching the clock tick, just waiting for dreaded math class to be over (or whatever your least favorite class was)? The last few weeks of school before summer? Psht, forget about it. Mentally I was long into summer already. I am sure the teachers were as well!
On to better and greater things.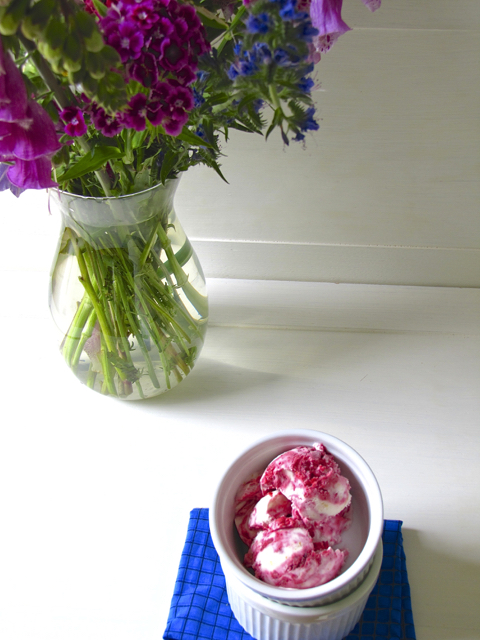 I am warning you first off, this ice cream is something you will want to hoard and never, ever share. I got lucky, my husband doesn't like cheesecake-ha! I was so excited when I was making this I just had to try a little spoonful here and there, just to make sure it tasted okay. And that was the only reason. Okay, maybe that was the excuse I made up for myself. It makes such a vibrant, beautiful color! This ice cream is creamy and rich with ocasional surprise raspberries. I am pretty sure that this has become my new favorite ice cream flavor. I foresee this being made many times in my future.
---
Recipe adapted from The Perfect Scoop, by David Lebovitz
Raspberry Swirl Cheesecake Ice Cream
This homemade ice cream is a spoonful of creamy cheesecake with a delicious raspberry sauce swirled throughout. It's a fabulous summer treat.
Ingredients
For the cheesecake ice cream
8 ounces cream cheese
zest of 1 whole lemon or orange
1 cup sour cream
1/2 cup half and half
2/3 cup sugar
pinch of salt
For the raspberry swirl
2 cups raspberries, fresh or frozen
3-4 Tablespoons sugar
a few drops of lemon juice
Instructions
For the ice cream, cut the cream cheese into small pieces. In a blender or food processor, zest in the lemon or orange. Then add the cream cheese, sour cream, half and half, sugar and salt. Purée until smooth, about 2 minutes.

Chill the mixture thoroughly in the refrigerator, then freeze it in your ice cream maker according to the manufacturer's instructions.

While the ice cream mixture is chilling, make the raspberry swirl. Purée 1 cup of the raspberries with 3 tablespoons of sugar in a food processor until smooth. Put the remaining 1 cup of raspberries in a small bowl. Add the puréed raspberries with the whole raspberries. Stir in the lemon juice. Taste and add more sugar if desired. Store in the refrigerator until ready to use.

To make raspberry swirl cheesecake ice cream, fold the raspberry mixture into the ice cream after it has been churned, into a large freezer container. Freeze until ready to serve.
Notes
Alternatively, the raspberry sauce can be served over the cheesecake ice cream.