I am pretty excited to have my own little rhubarb patch at my house. In the past, I have gotten it from my parents because they have a large garden that the family kind of shares. I got exactly a pound of rhubarb out of my patch, but it was perfect. Just enough to cut this recipe in half!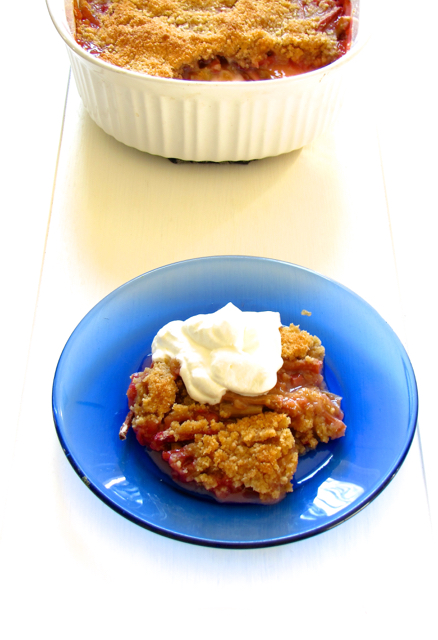 There is definitely something so satisfying to pick something out of your own garden and then bring it straight to your kitchen to cook. I thought I'd better post this recipe before rhubarb season goes by! This crumble was definitely on the sweet side, so feel free to reduce the amount of sugar used. This is perfect hot or room temperature with a side of whipped cream or vanilla ice cream. A perfect summer treat.
---
Recipe adapted from Simply Recipes
Rhubarb Crumble
This rhubarb crumble is wonderfully sweet with a simple, crunchy topping that is perfect for serving with a big scoop of vanilla ice cream or freshly whipped cream.
Ingredients
For the filling
1 lb. rhubarb, cut into 1-inch pieces
1/2 cup and 2 Tablespoons sugar
2 Tablespoons all-purpose flour
1/2 teaspoon vanilla extract
1/8 teaspoon ground cardamom or ginger
For the topping
1/2 cup all-purpose flour
1/4 teaspoon salt
1/2 cup light brown sugar
1/4 teaspoon cinnamon
1/4 cup (4 Tablespoons) unsalted butter, cut into cubes
Instructions
Preheat the oven to 375 degrees. Have ready an 8x8 baking dish.

In a medium bowl, mix together the rhubarb, sugar, flour, vanilla extract and the ground cardamom. Spoon into the prepared baking dish.

In a food processor, pulse together the flour, salt, brown sugar and cinnamon. Sprinkle the butter cubes over the top and pulse until the butter pieces are pea-sized. (Alternatively, you could mix the dry ingredients in a small bowl and cut the butter in with two knives or a pastry cutter.) Spread the topping evenly over the rhubarb mixture.

Place in the oven and bake for 35-40 minutes, until the filling is bubbly and the topping is light brown. Let cool slightly before serving. Serve with vanilla ice cream or whipped cream if desired.
Notes
*You can easily double this recipe without changing the baking time, just use a 9x13 dish.