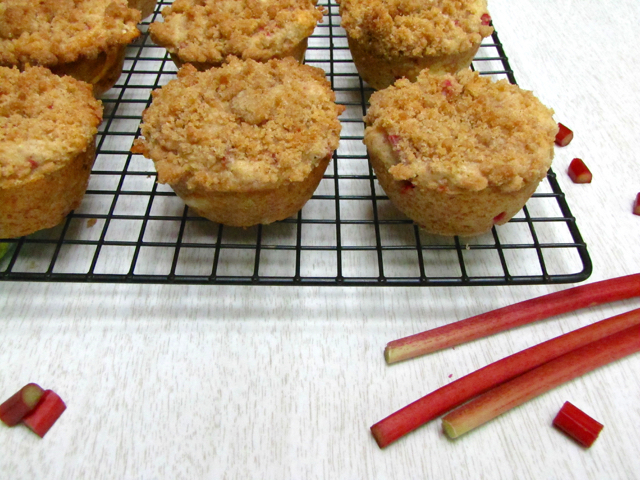 I have been on a serious rhubarb kick lately. Like, literally eating every day for the past week. It helps that we now have access to the large patch of it growing in my parent's garden. I seem to be the only one gathering from the patch this year. Usually I have to elbow my way in between my parents and sibs to get a handful. So of course, I have been baking a lot with it.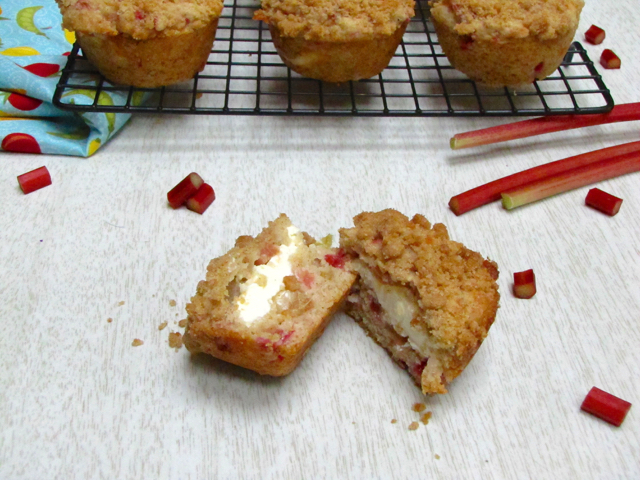 As a kid I never liked rhubarb. Maybe I wasn't exposed to it enough, or maybe it just wasn't sweet enough to my liking. Who knows. Now, I can't get enough of it! These muffins are a perfect way to enjoy fresh rhubarb. Having a mascarpone cheese filling makes them divine. I love that little surprise in the middle. My new favorite muffin! They are not too sweet that they make you want to go running for your toothbrush first thing in the morning. But, they are not too tart that you want to pucker up and squeeze your eyes shut. I think they are balanced just right for a breakfast muffin. Or after lunch muffin, or anytime of the day or night muffin…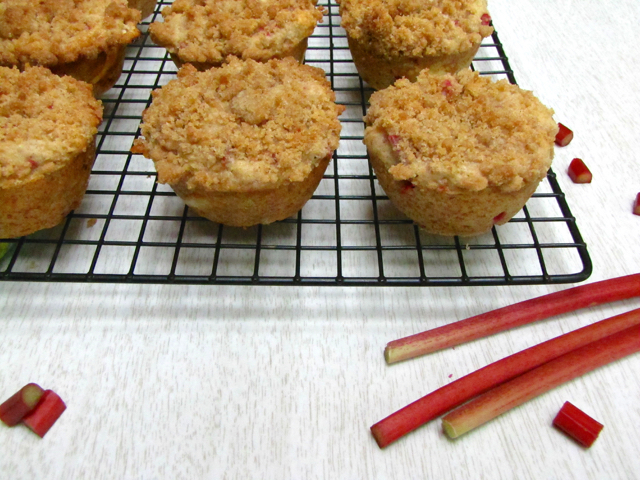 And P.S, I am now 4 days overdue and no sign of baby yet! Hopefully soon though!
---
Recipe for the rhubarb muffins adapted from A Farmgirl's Dabbles, streusel topping from Smitten Kitchen
Rhubarb Streusel Muffins with Mascarpone Cheese Filling
Tender muffins filled with pieces of fresh rhubarb and a surprise center of mascarpone cheese. With a crumbly toping, these make a great breakfast treat.
Ingredients
For the rhubarb muffins
1 large egg
1/2 cup milk
1/4 cup vegetable oil
1 1/2 cups all-purpose flour
1/2 cup sugar
2 teaspoons baking powder
1/2 teaspoon salt
1/2 teaspoon cinnamon
1/8 teaspoon nutmeg
1 1/2 cups chopped fresh rhubarb
For the filling
8 oz. mascarpone cheese (or cream cheese, softened)
2 Tablespoons honey
For the streusel topping
1/4 cup all-purpose flour
1/4 cup white whole wheat flour
1 Tablespoon granulated sugar
3 Tablespoons light or dark brown sugar
1/4 teaspoon ground cinnamon
pinch of nutmeg
pinch of salt
3 Tablespoons unsalted butter, melted
Instructions
Preheat the oven to 400ºF. Spray a muffin tin with nonstick spray.

To make the streusel, in a small bowl, stir together the flours, sugars, spices and salt. Mix in butter with a fork until crumbly. Set aside.

For the muffins, mix the egg, milk, and oil together in a small bowl. In a large bowl, whisk together the flour, sugar, baking powder, salt, cinnamon, and nutmeg. Add the oil mixture to the dry ingredients and stir until the flour is completely mixed in. Do not over mix. Gently fold in rhubarb.

In a small bowl, whisk together the mascarpone cheese and honey together until completely incorporated. (If you like the filling to be sweeter, add more honey to taste.)

Spoon 1 to 2 tablespoons of the muffin batter into each muffin well, making sure it covers the bottom. Divide the mascarpone cheese filling evenly between each muffin well (about 1 heaping tablespoonful). Divide the rest of the batter evenly between each muffin well, making sure to cover the mascarpone cheese completely Sprinkle the streusel evenly over the top of each muffin.

Place the muffins in the oven and bake until golden, about 18-20 minutes. Let rest in pan for 5 minutes before removing to wire rack to cool. Serve warm or at room temperature. Store in the refrigerator for up to 4 days.