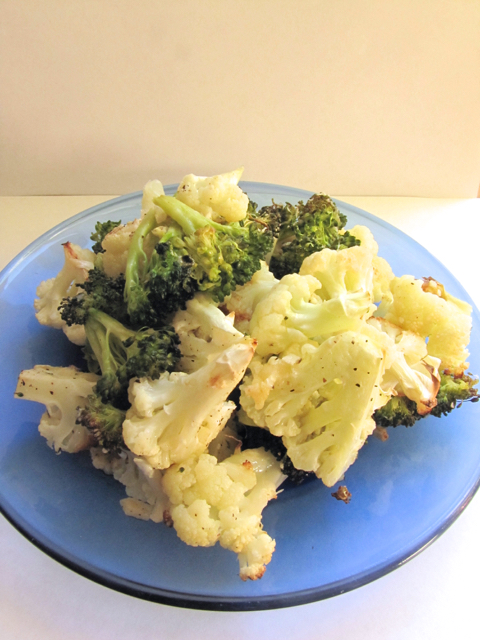 Broccoli is something that I am really picky about. I never liked it until just about two years ago, believe it or not. Cauliflower on the other hand, forget it. I wouldn't go near it, cooked or raw. I always tried to eat broccoli because I knew how good it was for me, but every time I ate it, there was always a lot of water involved trying to swallow it whole. Sounds like tricks we did as kids, avoiding chewing so we don't have to taste it, so instead we swallowed the whole thing! No? Maybe that was just me then…
Saying that, this recipe made me a lover of both cauliflower and broccoli. Everything is always better with a little garlic and parmesan cheese! Or maybe a lot of parmesan cheese…
I like to mix both of the vegetables together for a little variety, but you can always do just one or the other if you want. This is a very complimentary side dish to just about any meal. It comes together in a flash and bakes reasonably fast.
---
Recipe adapted from Our Best Bites
Roasted Garlic-Parmesan Cauliflower and Broccoli
This simple side dish of roasted broccoli and cauliflower is full of fabulous garlic flavor. Wonderfully simple that is perfect with any meal.
Ingredients
1/2 cup olive oil or grapeseed oil
6 cloves garlic, minced
1 head cauliflower
1 head broccoli
salt and pepper
1/4-1/2 cup parmesan cheese
Instructions
Preheat the oven to 400ºF. Have ready a foil lined baking sheet.

Combine the oil and garlic in a microwaveable bowl. Heat in the microwave for 20 seconds and then set aside.

Trim the cauliflower and broccoli into medium-sized florets. Place in a single layer on the prepared baking sheet. Drizzle the oil and garlic mixture over the top and toss well, adding more oil if needed. Sprinkle with salt and pepper.

Bake for 15 minutes and then toss with a spatula. Bake for another 10 minutes, then toss with the parmesan cheese. Bake for 5-10 more minutes, or until the cauliflower is slightly golden around the edges.
Notes
This recipe can easily be cut in half. Baking times stay the same.