Apparently I have a thing for strawberry ice cream, I now have three different variations on the blog! That's cool right? Kind of like how high socks are the thing right now. My son, mind you, is only 7 and doesn't care about fashion one bit, totally rocks the old man, high sock thing. It's pretty darn cute, might I add. But then again, I am kinda partial to my kids. Anyway, since it's melting hot outside, and I'm sitting here wishing Mainer's used AC more often, it's a perfect day to share ice cream! Does anyone else have the scene from Forrest Gump when Forrest is in the hospital next to Lt. Dan and he says, "Ice cream Lt. Dan!" come to mind when they talk about ice cream? No? Maybe I watch too many movies..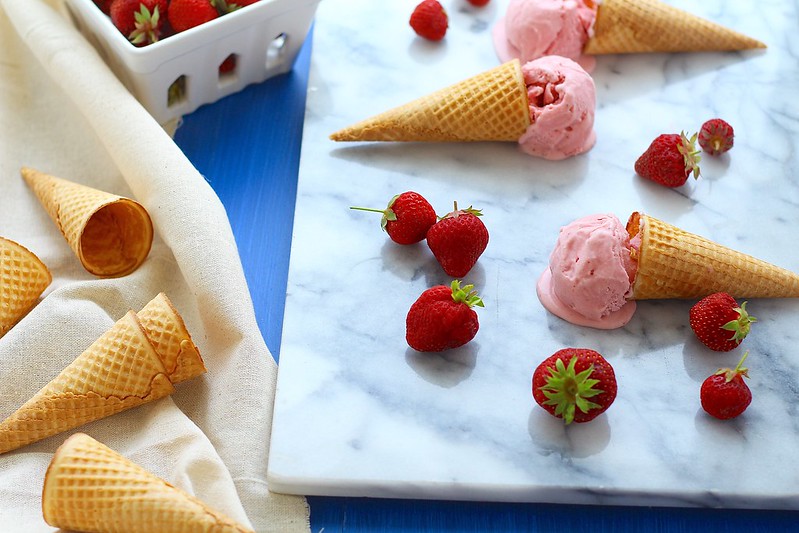 ANYWAY once again.
Strawberry ice cream. Let's stay on track people! This is best made with fresh, organic strawberries (as always when using fruit), extra bonus if you picked them yourself! Those bright and beautiful berries take center stage in this creamy dessert, with just a hint of tartness from the buttermilk. The buttermilk is there, but not so much that it overpowers the strawberries, so don't you worry 'bout that. The berries are briefly baked, just enough so they release their pretty juices and sweeten up. The berries are then puréed (because blended just sounds wrong), and added to the my all-time favorite ice cream base. This frozen delight highlights fresh, in season strawberries where one scoop is never enough.
---
Recipe adapted from Jeni's Splendid Ice Creams at Home
Roasted Strawberry Buttermilk Ice Cream
Buttermilk leads to a slightly tangy, super creamy ice cream. Farm fresh strawberries take center stage in this dreamy ice cream.
Ingredients
For the strawberries
1 pint strawberries, washed, hulled and sliced 1/2-inch thick
1/3 cup sugar
3 Tablespoons lemon juice
For the ice cream base
1 1/2 cups whole milk
1 1/4 cups heavy cream
2 Tablespoons cornstarch
3 ounces cream cheese, softened
1/8 sea salt
2/3 cup sugar
2 Tablespoons light corn syrup
1/4 cup buttermilk
Instructions
Preheat the oven to 375ºF. Combine the strawberries with the sugar in a small baking dish, tossing to coat. Place in the preheated oven and bake for 8 minutes, or just until softened. Purée the berries with the lemon juice in a food processor or blender until completely smooth. Measure out 3/4 cup and refrigerate the rest for future uses (i.e add to your smoothie, stir into yogurt, or serve over ice cream!).

Whisk 2 tablespoons of milk with the cornstarch in a small bowl to create a slurry. In a separate, medium mixing bowl, whisk the cream cheese and salt together until smooth.

In a medium saucepan, combine the remaining milk, heavy cream, sugar, and corn syrup. Bring to a rolling boil, and let boil for 4 minutes. Gradually whisk in the cornstarch slurry. Bring the mixture back to a boil and stir with a rubber spatula until slightly thickened, about 1 minute.

Carefully pour the hot milk mixture into the bowl with the cream cheese, whisking while you pour. Stir in the reserved 3/4 cup strawberry purée and buttermilk. Whisk until completely smooth. Cover the bowl and refrigerate overnight, or place the bowl in an ice bath to speed the chilling process.

Once completely chilled, freeze the ice cream according to your manufacturer's directions. Store the ice cream in an airtight container in the freezer.