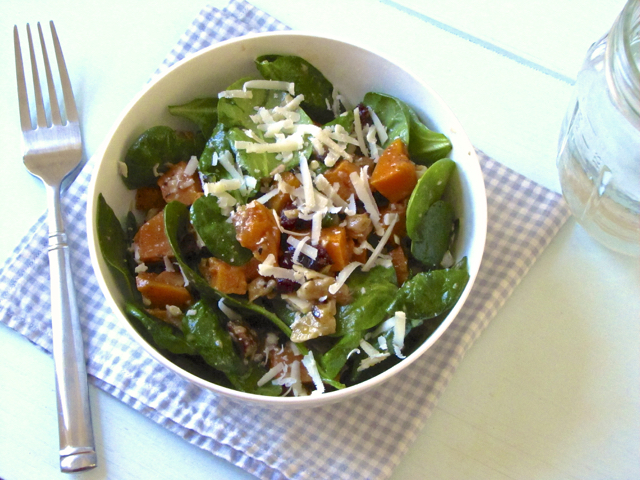 This weekend has been incredibly warm, and I am loving it. It has been in the 40's and the sun has been so warm. There is still a lot of snow on the ground, but I will take it! After it being in the single digits most of the winter, any warmth makes me happy. The kids love being outside without their jackets. We have all been outside as much as possible this weekend, soaking up the sun. Some of my family has been around wood cutting, so the kids and I have been helping lug brush to the burn pile. They always think it's a blast!
Because of the warm weather, it has me dreaming of Spring/Summer food. I know it will probably get cold and snow again before winter is officially over. (hey, I was born in a blizzard at the end of march!) I have been craving sweet potatoes a lot for the past month or so. So, I thought this salad would be perfect to satisfy my cravings and to celebrate the warm weather. It is a wonderful addition to any meal, or it makes a great light lunch. The only thing I wish I had done was keep the sweet potatoes separate from the salad so I could heat them up the next day. Go make this and you will be glad.
---
Recipe heavily adapted from Barefoot Contessa Back to Basics, by Ina Garten
Roasted Sweet Potato Salad with Warm Cider Vinaigrette
This salad is filled with roasted sweet potatoes, and a apple cider vinaigrette. Simple but fabulous for any time of the year.
Ingredients
2 medium sweet potatoes, peeled and diced into 1/2-inch pieces
1/2 cup, plus 2 Tablespoons olive oil, divided
1 Tablespoon pure maple syrup
kosher salt and freshly ground black pepper
1/4 cup dried cranberries
3/4 cup apple cider or apple juice
2 Tablespoons cider vinegar
2 Tablespoons minced shallots
2 teaspoons Dijon mustard
6 ounces baby spinach, washed and spun dry
1/2 cup chopped walnuts, toasted
3/4 cup freshly grated parmesan cheese
Instructions
Preheat the oven to 400ºF.

Place the diced sweet potatoes on a sheet pan. Add 2 tablespoons olive oil, the maple syrup, 1 teaspoon salt and 1/2 teaspoon pepper and toss. Roast the sweet potatoes for 20 to 25 minutes, stirring occasionally, until tender when poked with a fork.

While the sweet potatoes are roasting, combine the apple cider, vinegar, and shallots in a small saucepan and bring to a boil over medium-high heat. Cook for 6 to 8 minutes, until the cider is reduced to about 1/4 cup. Off the heat, whisk in the mustard, 1/2 cup olive oil, 1 teaspoon salt, and 1/2 teaspoon of pepper.

Place the spinach in a large salad bowl and add the sweet potatoes, cranberries, walnuts, and the grated parmesan. Spoon just enough vinaigrette over the salad to moisten and toss well. Sprinkle with salt and pepper and serve immediately.