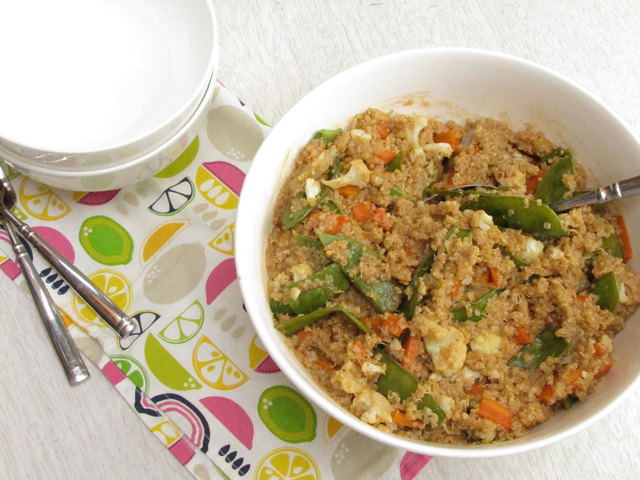 I am always looking for new and exciting ways to eat quinoa. It is a super food after all. When I saw this recipe that included peanut sauce, I was sold. Everything is better with peanut sauce, right? (Kind of like whipped cream.) This a great way to get a mouthful of wonderfully tasting and healthy foods all at once. I personally like this at a warmer temperature, but I am weird like that. You can take this for lunch and have it at room temperature. Or keep in the fridge and eat it chilled. Whatever you prefer!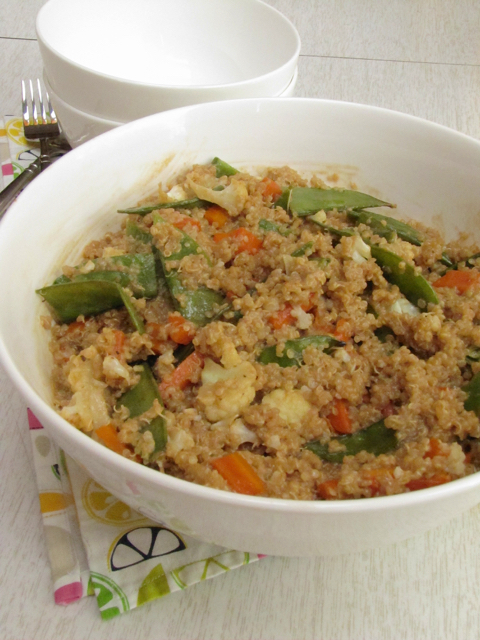 ---
Recipe adapted from Annie's Eats
Roasted Veggie Quinoa Bowls with Peanut Sauce
Healthy quinoa is mixed with fresh, roasted vegetables and tossed with a creamy peanut sauce. Perfect to pack for lunches all week.
Ingredients
1/4 head cauliflower, chopped into small florets
1 teaspoon kosher salt, plus more for seasoning
1 small onion, chopped
1 bell pepper, seeded and chopped
6 oz. snow peas, roughly chopped
olive oil
salt and pepper
1 cup uncooked quinoa
For the peanut sauce
3 Tablespoons olive oil
3 Tablespoons soy sauce
2 Tablespoons creamy peanut butter
2 cloves garlic, minced or pressed
1 teaspoon ground ginger
1/4 teaspoon red pepper flakes
Salt and pepper, to taste
Instructions
Preheat the oven to 400ºF. Line a baking sheet with foil. On the baking sheet, combine the cauliflower, onion, bell pepper and snow peas. Drizzle lightly with olive oil and season with salt and pepper. Bake for 20 minutes, stirring once or twice during baking. Remove from the oven and let cool.

While the vegetables are roasting, rinse the quinoa well and drain in a fine mesh sieve. Cook according to package directions. When the quinoa is cooked and has cooled slightly, combine in a large mixing bowl with the vegetables.

To make the peanut sauce, combine the olive oil, soy sauce, and peanut butter in a small bowl. Whisk to blend until smooth. Add in the garlic, ginger and red pepper flakes and whisk once more until smooth. Add the peanut sauce to the bowl with the quinoa and veggies. Gently fold together until everything is evenly combined. Serve at room temperature or chilled.