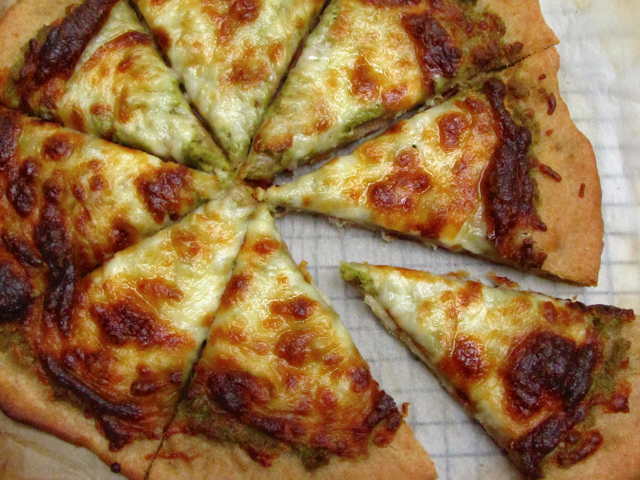 After my new found love of scape pesto, I just had to experiment with it. The first thing that came to mind was pizza! Pesto makes a great base instead of sauce. It is nice to mix it up too. It was perfect timing to have on hand for our Saturday movie night ritual. We generally have pizza, store bought or homemade. It's a lot of fun to watch a movie with the kids and eat dinner at the same time. It's something special for them to look forward to every week. Plus, they love to help me make pizza.
My daughter loved this pizza. And I totally did too. We both couldn't wait to have left overs the next day. It was incredibly easy to make and so delicious! It was a great alternative to regular sauce pizza. I will definitely be making this again with my left over frozen scape pesto!
---
Island Bakes Original
Scape Pesto Pizza
Garlicky scape pesto is the sauce layer in this super simple and delicious pizza.
Ingredients
1/2 cup scape pesto, divided
2 lbs. pizza dough, store bought or homemade
4 cups shredded mozzarella cheese, divided
Instructions
Preheat to the oven to 500ºF. Place a baking stone or upside down cookie sheet in the oven to preheat.

On a lightly floured surface, roll 1 lb. of the pizza dough out into a 14-inch round. Roll around the rolling pin and transfer to a parchment lined cookie sheet.

Spread half the pesto over the pizza dough, leaving about 1/2-inch space around the edge. Evenly sprinkle 2 cups of the mozzarella cheese over the pesto. Slide the parchment paper with the prepared pizza on it onto the preheated cookie sheet in the oven. Bake until the cheese is bubbly and golden, 10-15 minutes.

While the first pizza is cooking, assemble the second pizza following the same directions. Serve warm.