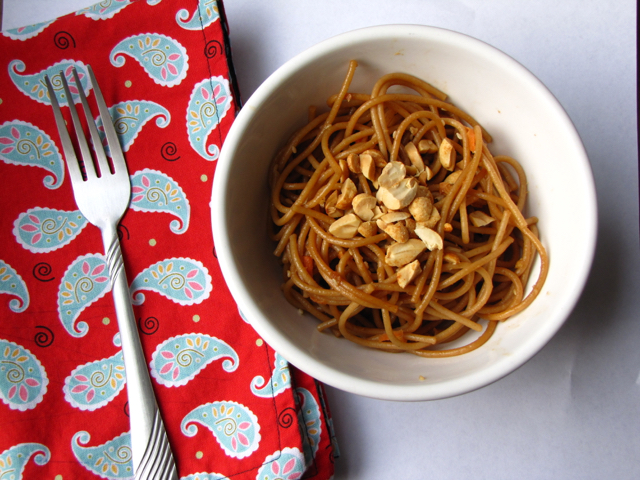 The other night, I had a nice hearty dinner planned since my husband was going to be home late from loading the boat with traps. As I was getting ingredients out to start chopping, I realized that the bag of onions had been left…empty. And it wasn't an item I could leave out of the recipe. That's when things starting going down hill from there. The kids were tired and grumpy from playing in the snow all afternoon, and my patience was running thin since it seemed as if I was missing at least one ingredient from each recipe that was quick and easy! This is when sesame noodles came waltzing in to save the day.
These sesame noodles are super quick to whip up, and a kid pleaser. They are great cold, or warmed up. Perfect for a hot summer day when you don't feel like cooking! It uses ingredients that you are likely to have in your pantry, or can easily substitute. I served the noodles alongside a simple salad, and it was the perfect panic-I-don't-have-anything-to-make-for-dinner meal.
---
Island Bakes Original
Sesame Noodles
These sesame noodles are really simple and easily modified to fit your liking.
Ingredients
12 oz. thin spaghetti (I used whole wheat), or any thin noodle of choice
3-4 cloves garlic, minced
3 Tablespoons sesame oil
2 heaping Tablespoons peanut butter
2 Tablespoons rice vinegar (or any vinegar)
1 Tablespoon olive oil
1 Tablespoon brown sugar
1/4 cup soy sauce
optional add-ins: toasted sesame seeds, shredded carrots, chopped peanuts, chopped scallions, crushed red pepper for a little kick
Instructions
Bring 4 quarts of water to a boil in a medium size pot. Cook the noodles until al dente. Drain well.
Meanwhile, in a small bowl, whisk together minced garlic, peanut butter, vinegar, sesame oil, olive oil, brown sugar, and soy sauce..Place the noodles in a large bowl. Pour the sauce over the warm noodles, mix well. Mix in any or all optional add-ins. Serve warm, room temperature or cold.