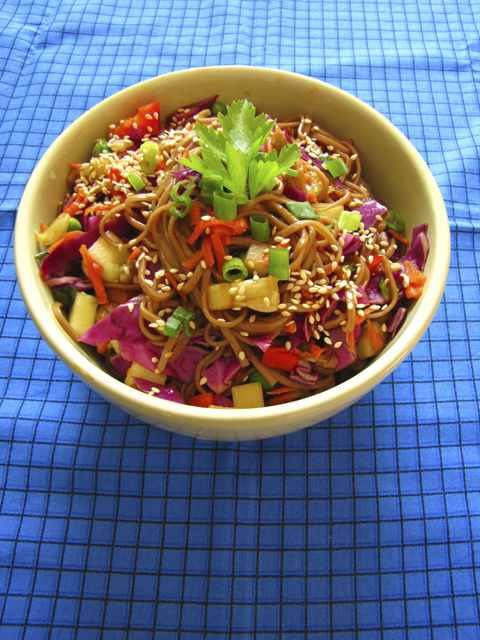 In the summer, when it's sweltering outside and inside the house, I like to find meals that involve minimal cooking and definitely don't require turning on the oven. The house we live in stays between 85-90 degrees, all summer. And it's freezing in the winter. That's what happens when you have an old house that is poorly insulated! So, we tend to grill a lot or have cold meals most of the summer. If I have energy in the morning and it's not really hot out first thing, I will bake a meal in the oven ahead of time. To think that this is only Maine! I obviously wouldn't do well in in the midwest. I am so weird, I get tired of the seasons. I am always looking forward to the next one about half way through the current season. I get over heated quickly in the summer which makes me grouchy, then in the winter, I freeze my tail off because I have poor circulation! I guess it's a good thing I live in a state that has forever changing weather.
Moving on.
This recipe is wonderful. It's a great way to get a bunch of vegetables into one dish. I tend to go a little overboard when I add vegetables to this dish. I can't help it, it just looks so inviting! This makes great leftovers the next day. You don't even have to worry about heating it up if you don't want to- it's good cold or warm!
Minimal cooking-check. Loaded with vegetables-check. Everyone happy and not breaking a sweat over a big meal in the summer?-check!
---
Recipe adapted from Annie's Eats
Sesame Soba Noodles
This salad is great eaten cold or at room temperature. It's packed with fresh vegetables and herbs. It makes a great lunch or vegetarian dinner.
Ingredients
For the dressing
1/2 cup reduced sodium soy sauce
2 Tablespoons sesame oil
2 Tablespoons olive oil
2 Tablespoons rice wine vinegar
2 cloves garlic, minced
4 green onions (scallions), chopped
1/4 cup cilantro or parsley, chopped
For the salad
8 oz. soba noodles (or thin whole wheat spaghetti)
1/2 red bell pepper, seeded and roughly chopped
1/2 cup shredded red cabbage
2 carrots, peeled and shredded
3/4 cup edemame, shelled and cooked or cooked peas
1/2 medium cucumber, peeled and chopped
toasted sesame seeds, for serving
Instructions
To make the dressing, whisk the soy sauce, sesame oil, olive oil, rice wine vinegar, garlic, green onions and parsley together until well combined. Set aside.

Cook the soba noodles according to the package directions. Drain well and rinse with cold water.

Transfer the noodles to a large serving bowl and mix in the vegetables. Pour the dressing over the top and toss until the vegetables and noodles are well coated with the dressing. Serve cold or at room temperature and sprinkled with the toasted sesame seeds.