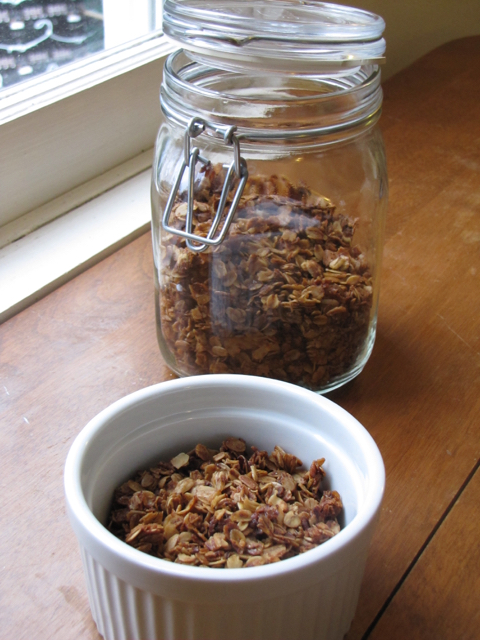 For breakfast I usually like to have something different then the same old, boring cereal. So, to mix it up a bit, I make granola. This granola makes a great base that is ready to be loaded with toasted nuts, dried fruit, maybe some chocolate (it's still considered healthy if it's with granola, right?).
---
Island Bakes Original
Simple Granola
This simple and healthy granola is a great way to start your day. Full of flavor and you can throw in whatever nuts and dried fruit you want!
Ingredients
6 cups of old-fashioned oats (not the quick cooking kind)
2/3 cup honey
1/2 cup oil (I used canola, but any tasteless oil will do)
1/4 cup ground flax seed (optional)
1 teaspoon ground cinnamon
1/4 teaspoon ground nutmeg
1/8 teaspoon ground cloves
optional add-ins: toasted nuts (almonds, walnuts, pecans...), dried fruit (raisins, cranberries, dates...), roughly chopped chocolate
Instructions
Preheat the oven to 325ºF. Have ready a rimmed cookie sheet lined with parchment paper or silpat.
In a large bowl, mix together all the ingredients thoroughly. Make sure all the oats are coated with the honey mixture. Pour the granola on the prepared baking sheet, making sure it's all evenly spread out.
Bake for 15 minutes. Stir the oats well. Bake for another 10-12 minutes, until golden. Keep an eye on it, because it can burn quickly.
Let the oats cool until room temperature. Stir in any or all of the optional add-ins, then store in an air tight container up to 1 month.