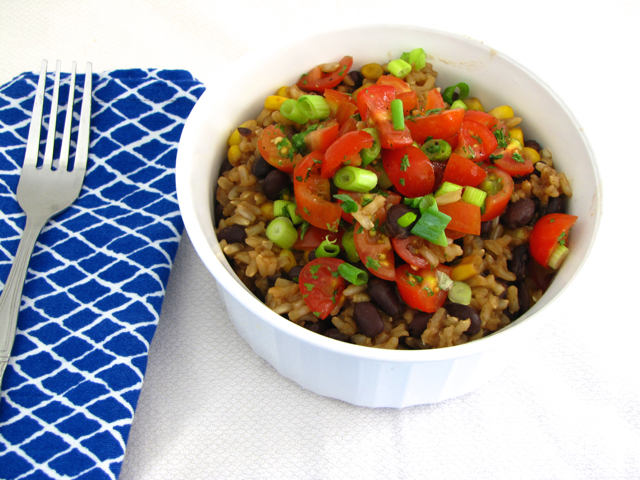 Happy October! We seem to be rapidly moving closer to winter. Most stores seem to think so too, considering I have already seen Christmas items on the shelves. Come one people, we haven't even had Halloween yet! I don't know why stores insist on rushing through all the holidays. I like to take them as they come and enjoy each one!
Enough of my rant.
This dish is a wonderful way to end fresh garden vegetables. I know that my family has been working on getting everything harvested and processed in our communal gardens before the first frost. I plan on transplanting my little herbs so I can have them inside all winter (and try not to kill them in the process!). This dish is a satisfying, healthy way to say goodbye to fresh veggies for another 6 months!
---
Recipe from The America's Test Kitchen Healthy Family Cookbook
Skillet Rice and Beans with Corn and Fresh Tomatoes
Total Time:
1 hour
3 minutes
This tasty brown rice dish is bursting with fresh vegetables and can be eaten hot or cold. This dish makes a great lunch or a light dinner.
Ingredients
4 teaspoons olive oil
1 onion, minced
2 ears corn, kernels removed (or about 3/4 cup frozen)
1 cup long-grain brown rice, rinsed and drained
4 garlic cloves, minced
1 teaspoon cumin
pinch cayenne pepper
3 1/4 cups vegetable or chicken broth
2 15 oz. cans black beans, drained and rinsed
2 cups grape tomatoes, quartered
5 scallions, thinly sliced
1/4 cup minced fresh parsley or cilantro
1 Tablespoon lime juice
Instructions
In a large skillet, heat 2 teaspoons of the oil over medium-high heat until shimmering. Add the onion and cook until softened and lightly browned, about 5-7 minutes. Stir in the corn and cook until lightly browned about 4 minutes. Stir in the rice, garlic, cumin and cayenne pepper and cook until fragrant, about 30 seconds.

Stir in the broth and bring to a simmer. Cover, reduce the heat to medium-low, and simmer gently, stirring occasionally, for 25 minutes.

Stir in the beans, cover, and continue to simmer until the liquid has been absorbed and the rice is tender, 20-25 minutes. Season with salt and pepper to taste.

In a small bowl, combine the remaining 2 teaspoons olive oil, tomatoes, scallions, parsley and lime juice. Season with salt and pepper to taste. Sprinkle the tomato mixture over the rice and beans and serve.