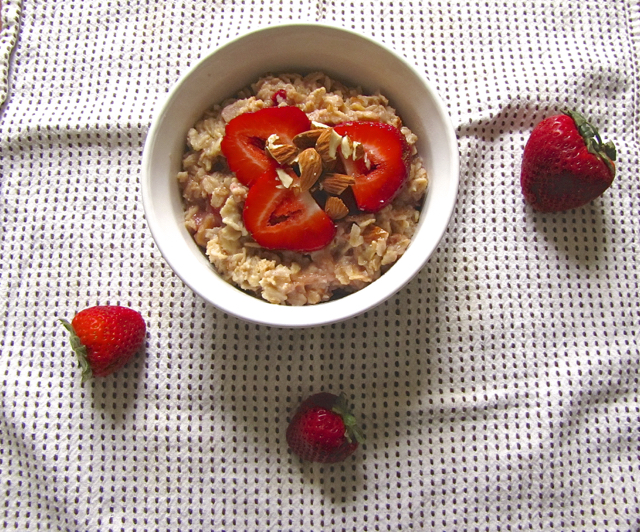 I hope everyone had a great Memorial Day weekend. The forever long rain finally let up, and we got a beautiful, sunny day on Monday. Just in time for some cookouts! I hope everyone got to stuff themselves silly with delicious food, and pay tribute to that special military person in their life.
I have a rockin' oatmeal recipe for you this morning. Roasting bananas and strawberries together in a skillet makes a little bit of heaven in a bowl. The bananas become all sugary and caramelized tasting while the strawberries become soft and delectable. This is very easy and quick to make. A healthy way to start the day!
---
Island Bakes Original
Skillet Roasted Strawberry-Banana Oatmeal
This simple oatmeal recipe is slightly sweet, thanks to honey and bananas. It's great to make a big batch and reheat to eat for breakfast all week. Healthy and a filling way to start your day.
Ingredients
2 bananas peeled and sliced about 1/4 inch thick
3-4 strawberries, hulled and sliced in quarters
1/2 Tablespoon butter
2 Tablespoons honey
1 3/4 cup water
1 1/4 cups old-fashioned oats
1/4 cup almonds, roughly chopped
2 teaspoons ground cinnamon
1 teaspoon vanilla extract
Instructions
In a medium skillet, over medium heat, melt the butter. Stir in the bananas, strawberries and honey. Cook, stirring occasionally, until the bananas are caramelized and the strawberries are soft, 5 to 8 minutes. Take off the heat and set aside.

Meanwhile, in a medium pot, bring the water to a boil on high heat. Stir in the oats and bring to a boil. Turn the heat down to medium-low, and simmer the oats, stirring occasionally, until creamy and the water is absorbed, about 6 minutes. Stir in the vanilla extract and cinnamon. Then stir in the chopped almonds and banana mixture into the oats. Serve with brown sugar or honey if desired.