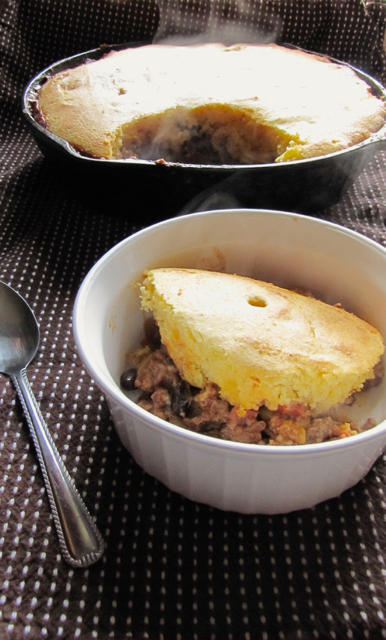 This past week, mother nature decided it would be fun to bring back the cold, windy weather. Because of the weather, it has been hard for me to get out of my winter comfort food kick. In the winter, to me, a big, one dish meal that is full of meat and vegetables is perfect on a cold day. And bread. You can't forget about bread.
This dish fit the bill perfectly. It is hearty, full of ground beef, black beans, tomatoes, and of course topped with de-lish cornbread. Yum yum. And it came together very quickly! A win-win in my books. And, while cooking, it made the house smell so good!
---
Recipe from The America's Test Kitchen Healthy Family Cookbook
Skillet Tamale Pie
This dish is packed full of wonderful flavors, ground beef, vegetables, and beans. To make it extra fabulous, a cornbread topping is baked over the top. A wonderful comfort food meal for the middle of winter.
Ingredients
For the filling
2 teaspoons grapeseed oil
1 onion, minced
1 red bell pepper, stemmed, seeded and chopped fine
2 Tablespoons chili powder
2 garlic cloves, minced
1 pound ground beef
1 (15 oz) can black beans, drained and rinsed
1 (14.5 oz) can diced tomatoes, drained
1 ear corn, kernels removed (or 1/2 cup frozen and thawed)
1 cup shredded cheddar cheese
2 Tablespoons minced fresh parsley (or 2 teaspoons dried)
salt and pepper
For the cornbread topping
3/4 cup all-purpose flour
3/4 cup yellow cornmeal
3 Tablespoons sugar
3/4 teaspoon baking powder
1/2 teaspoon salt
1/4 teaspoon baking soda
3/4 cup buttermilk
1 large egg
1 Tablespoon unsalted butter, melted
Instructions
To make the filling, preheat the oven to 450ºF.

Heat the oil in a 12-inch ovenproof skillet over medium heat until shimmering. Add the onion, bell pepper, and chili powder, and cook until the onion is softened, 5-7 minutes. Stir in the garlic and cook until fragrant, about 30 seconds.

Stir in the ground beef, beans, tomatoes, and corn, and cook, breaking up the meat with a wooden spoon, until the meat is no longer pink, about 5 minutes. Off the heat, stir in the cheese and parsley and season with salt and pepper to taste. Cover with foil or a top and set aside while preparing the topping.

To make the cornbread, in a large bowl, whisk together the flour, cornmeal, sugar, baking powder, salt, and baking soda. In a separate bowl, whisk the buttermilk and egg together. Stir the buttermilk mixture into the flour mixture until uniform, then stir in the melted butter until just combined.

Using a rubber spatula, dollop the corn bread topping evenly over the filling, then spread it into an even layer, covering the filling completely. Bake the pie uncovered, until the topping is golden and has baked through completely in the center, 15-20 minutes. Let the pie cool for 10 minutes before serving.
Notes
Store in the refrigerator up to two days.