So, lately our "Spring" weather has been very strange. We had a few days where the temps reached the 60's and 70's. And then, it snowed. Seriously, at the end of April! I think mother nature is getting one last laugh since it was such a mlid winter. Then, that night it was in the 20's and everything was covered in a thick frost the following morning. My poor daffodils!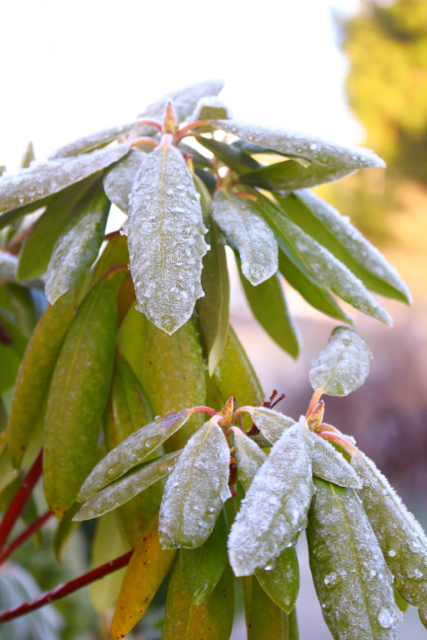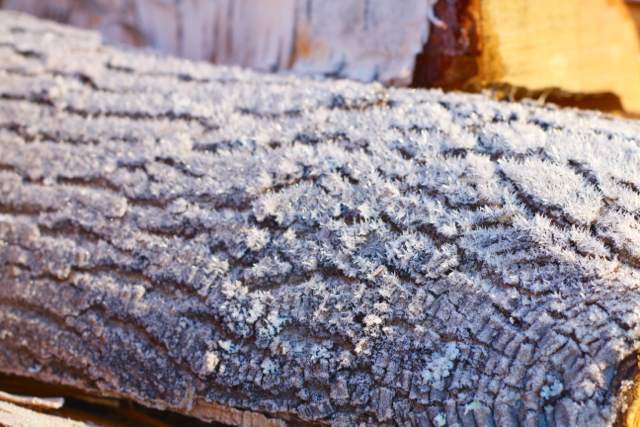 Our tiers of unused wood leftover from a mild winter covered in beautiful frost.
Since the weather has been on the chillier side lately, I still haven't fully transitioned to spring and summer foods. I have several great bread recipes still to share with you! I am hoping it's not too late and people are still interested in bread baking at this point.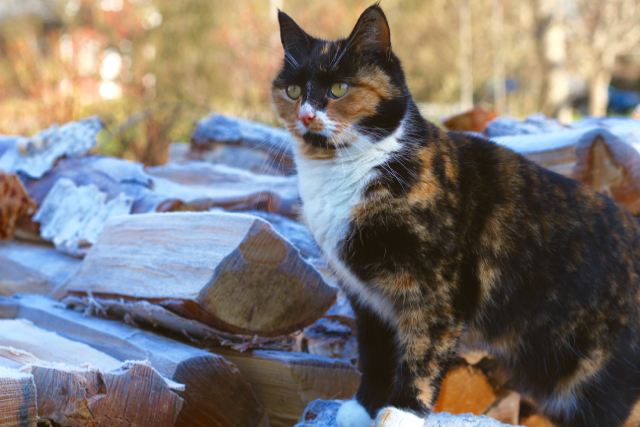 Our outside cat Rosie didn't seem to mind the frosty wood!
So, on to these fries. We are all big fry lovers in my family. Especially when it comes to summer take-outs. I don't make them at home very often, but when I do, I try to make a "healthier" version of them. AKA, baking instead of deep-frying. That way you can eat more fries without the guilt! These fries are my new favorite. They are really simple to make, but oh man, they are so good. I use my mandolin slicer to make even 1/4″ slices of fries (and it saves me time slicing!). Then, the fries are tossed in oil, minced garlic, salt and pepper, and baked to perfection. They are crispy on the outside, but slightly soft on the inside. For the finishing touches, the fries are topped with freshly minced parsley and grated parmesan cheese. I could seriously eat these fries for days.
---
Recipe from Skinny Taste
Skinny Garlic Parmesan Fries
This simpler version of fries is healthier, thanks to baking instead of frying. The fries are seasoned with a simple garlic oil, fresh herbs and a sprinkling of Parmesan cheese. A great side dish for any meal.
Ingredients
1 Tablespoon olive oil
3 cloves garlic, crushed
2-3 medium russet or yukon gold potatoes, washed and dried
kosher salt and black pepper, to taste
1 1/2 Tablespoons fresh grated Parmesan cheese (or more to taste)
fresh parsley, minced
Instructions
Combine the oil and crushed garlic in a small bowl. Preheat the oven to 425ºF. Lightly coat a baking sheet with cooking spray.

Slice the potatoes into 1/4-inch thick slices. Place on the baking sheet and toss with the oil and garlic until evenly coated. Season with salt and black pepper. Spread out in a single layer. Bake uncovered in the center of the oven until tender crisp and golden brown, about 15-20 minutes on each side. Sprinkle with parmesan cheese and parsley and serve warm.