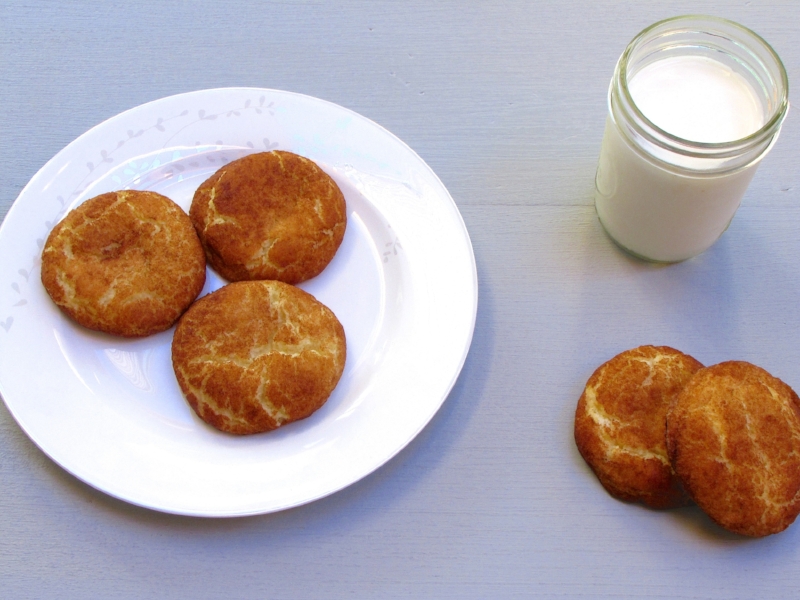 When I was a tween, I spent a a few summers working on a little family owned island as the cooks helper. There was no electricity and our cabin was the only one with running water. Even without the usual amenities, the island was a little slice of heaven. It was beyond gorgeous there. My bedroom window had the million dollar view looking over the ocean. I would stay out there for a week at a time. It became home away from home a few weeks out of the summer for several years.
Well, the cook that I worked for knew her business. She was fantastic at throwing together huge meals, three times a day, to feed many hungry mouths with limited resources. One of my favorite desserts she would make were snickerdoodles. Until recently, I had entirely forgotten about these cookies. At one point, she had given me her recipe, but sadly it was misplaced over the years. But, a little google search and I found a recipe in no time!
These cookies are soft, almost cake-like. I thought that this recipe was a little heavy on the cinnamon roll, so I have made my changes below. Snickerdoodles are a wonderful break from the classic chocolate chip or peanut butter cookies. They are so tasty and make your house smell divine while baking. And rolling the cookies in the cinnamon-sugar is great fun for kids!
---
Recipe barely adapted from Smitten Kitchen
Snickerdoodles
Pillowy soft snickerdoodles that are rolled in sugar and baked to perfection.
Ingredients
2 3/4 cups all-purpose flour
2 teaspoons cream of tartar
1 teaspoon baking soda
1/4 teaspoon salt
16 Tablespoons unsalted butter, at room temperature
1 3/4 cups sugar, divided
1 Tablespoon ground cinnamon
2 large eggs
Instructions
Preheat the oven to 400ºF. Line baking sheets with silicone baking mats or parchment paper and set aside.

In a medium bowl, whisk together flour, cream of tartar, baking soda, and salt and set aside. In the bowl of an electric mixer fitted with a paddle attachment, beat the butter and 1 1/2 cups sugar together on medium speed until light and fluffy, 2-3 minutes. Scrape down the sides of the bowl. Add the eggs, and beat until combined. Add the flour mixture, and beat to combine. At this point, you can chill the dough for an hour to make scooping the dough easier, or just go ahead with the next step.

In a small bowl, combine remaining 1/4 cup sugar and the ground cinnamon. Use a small ice-cream scoop to form balls of the dough, and roll in cinnamon sugar. Place about two inches apart on the prepared baking sheets. Bake until the cookies are set in the center and begin to crack (they will not brown), about 10 minutes, rotating the baking sheets after five minutes. Let the cookies cool in the pan for about five minutes before transferring the cookies to a rack to finish cooling completely.