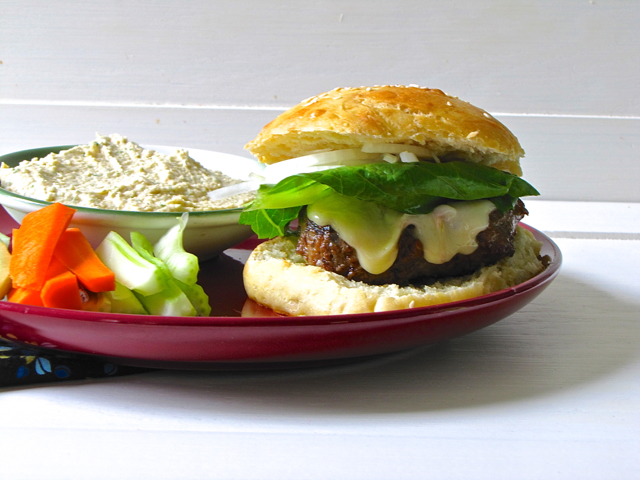 Summer is the time for grilling. It's a nice way to spend time outside, out of the kitchen, and occasionally, with friends! Unfortunately, we don't grill nearly as often as I wished we did. We have a small charcoal grill that is such a hassle, that I would rather cook inside! (Maybe some day we will have a gas grill? Ha) Our lack of grilling doesn't stop me from cooking plenty of meat! Since we order our meat bulk once a year, I have lots of time to come up with new recipes throughout the year!
I made up these burgers in hope of covering the almost-gamey taste of organic meat. It was a total success! I didn't grow up on organic meat, so I haven't really been able to get use to the more natural flavor. So, I hide it with other flavors! This is a great twist on a classic burger. These burgers are something I would make over and over again. They are amazing! The kids were so excited. Who am I kidding, my husband I were pretty darn excited as well! Feel free to play around the flavors to your liking. This is a very forgiving recipe!
---
Island Bakes Original
Spice Stuffed Hamburgers
This spiced stuff burger will liven up your burger game. The meat is mixed with warm spices that take your burger to the next level.
Ingredients
1

lb.

lean hamburger

1

medium onion

peeled and finely chopped

1/2

teaspoon

garlic powder

1/2

teaspoon

garlic salt

1/2

teaspoon

oregano

1/2

teaspoon

parsley

1/2

teaspoon

chili powder

1/4

teaspoon

freshly ground pepper

1/4

teaspoon

ground cumin

1/4

teaspoon

salt

1/4

teaspoon

crushed red pepper

1/8

teaspoon

cayenne pepper

burger buns

homemade or store bought

desired condiments and toppings
Instructions
In a medium bowl, place the hamburger with the rest of the ingredients.  Mix well with your hands until the spices are evenly distributed. Form into desired size burger patties.

Oil grates of grill, or alternatively, oil a frying pan over medium heat. Cook the burger patties to desired temperature. If cooking in a skillet, cover with a top for half of the cooking time to ensure the burgers don't dry out.  (We like ours well done, which takes about 15 minutes per side.) Place cheese on top if desired and serve with preferred condiments. Enjoy!
Share on Instagram