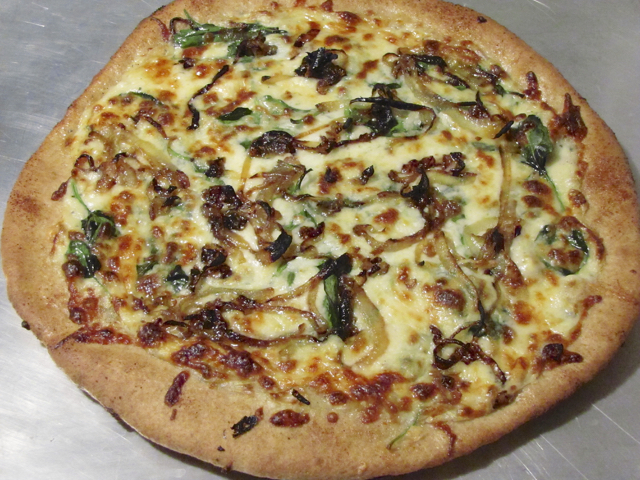 Pizza is a favorite dish in our house. My daughter generally eats more pizza in one sitting than I do! And that is saying something because she is a total peanut. Occasionally, when I am tired and don't feel like cooking, we will order pizza. Most of the time though, I like to make my own because it's a great meal for the kids to help me with. And it is fun to experiment with sauces and toppings.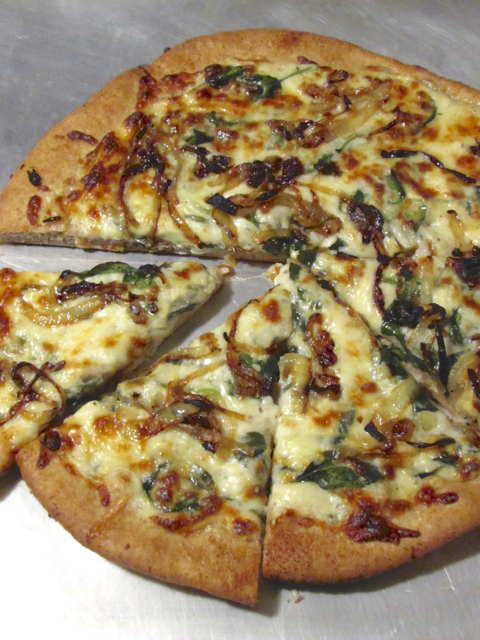 I have always liked white pizza sauce, but have never tried to recreate it at home. So, I decided that it was time. I looked around online and asked my sister to get the idea of the sauce ingredients. Then, I went to town experimenting! I must say that I was very excited to have my first try come out as a total success. It was a big hit in my house! It's just the way it should be, creamy, cheesy and delicious! In my recipe, I made enough for two pizzas because one is never enough in my house! And of course you can cut the recipe in half to make just one pizza.
---
Island Bakes Original
Spinach and Caramelized Onion Pizza with White Sauce
This pizza is filled with seasoned white sauce, caramelized onions, spinach and gooey cheese. A fun recipe to mix up pizza night.
Ingredients
 For the pizza
2 lbs. pizza dough, store bought or homemade
2 Tablespoons grapeseed oil or canola oil
2 large onions, thinly sliced
1 teaspoon salt
2 Tablespoons olive oil, divided
1 cup shredded cheddar cheese, divided
1 cup shredded parmesan cheese, divided
2 cups shredded mozzarella cheese, divided
2-3 cups loosely packed baby spinach, divided
2 teaspoons garlic powder, divided
For the sauce
1 cup milk
6 Tablespoons salted butter
3 Tablespoons cornstarch
2 cloves garlic, crushed
1/4 teaspoon pepper
1/4 teaspoon dried rosemary
1/2 teaspoon garlic powder
1/4 teaspoon dried basil
Instructions
In a medium pan over medium-low heat, heat the grapeseed oil. Once hot, add the onions and salt. Cook, stirring occasionally, until the onions are a deep golden brown and caramelized, about 20-25 minutes. Transfer to a small bowl and set aside.

Place a pizza stone or cookie sheet in the oven. Preheat the oven to 500ºF. Let the stone or cookie sheet warm for no more than 30 minutes.

Meanwhile, to make the sauce, add all the ingredients to a small saucepan. Whisk occasionally over medium-high heat until the butter is melted and the sauce has thickened, about 5 minutes. Remove from the heat.

To assemble the pizzas, roll out 1 lb. of dough on a lightly floured surface. Transfer the dough to a parchment lined cookie sheet. (Makes it easier to transfer to the oven.)

Lightly brush the outer edges of the dough with 1 tablespoon olive oil. Sprinkle the oiled edges with 1 teaspoon garlic powder. Spread 1/2 a cup or so (as much or little to your liking) of the sauce in the center of the pizza, being careful not to go over the oiled sides. Sprinkle 1/2 cup of the parmesan and 1/2 cup of the cheddar cheese over the sauce. Evenly distribute 1- 1 1/2 cups of the spinach leaves over the sauce. Sprinkle 1 cup mozzarella cheese over the spinach and top with half of the caramelized onions.

Transfer to the oven and cook for about 10 minutes until the cheese is golden and bubbly.

While the first pizza cooks, assemble the second pizza using the same process and remaining ingredients.

Transfer cooked pizzas to a cutting board and slice. Serve hot.