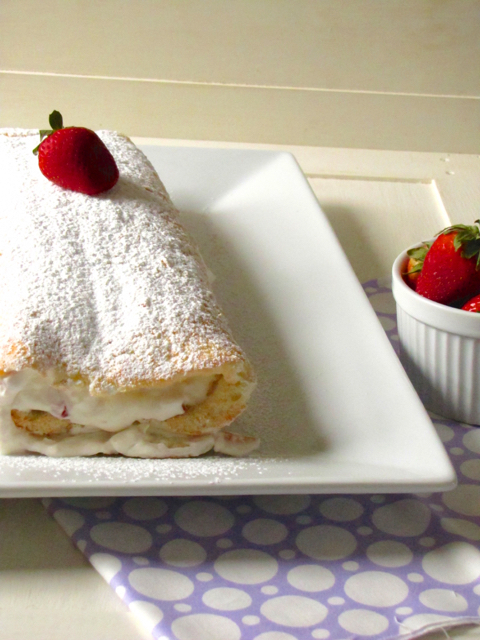 One last recipe before easter tomorrow! I wanted to share with you this wonderful, spring-like, light dessert. Angel food cake is one of my favorite cakes. It is so light and I love to top it with fruit and whipped cream. So, when I saw this recipe with the whipped cream and fruit rolled into the cake, I couldn't resist making it.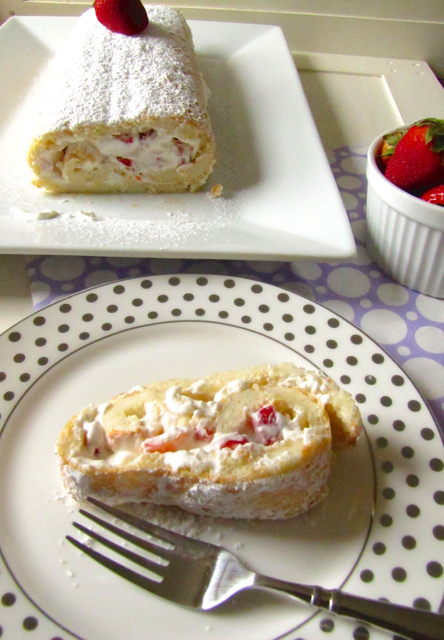 This was actually the first time I have made a rolled cake. Not quite as intimidating as I thought it would be. Mine wasn't exactly as neat as I was hoping for, but that didn't affect the taste at all! The cake is incredibly light and fluffy, then filled with sweetened whipped cream and fresh strawberries, it is divine. It would be so worth having for an easter brunch or dinner tomorrow! This would also be a great dessert for the summer. And for the left over whipped cream, save some because I will be sharing a recipe very soon that will involve using it! Trust me, you don't want to miss it!
---
Recipe adapted from Brown Eyed Baker, originally adapted from Taste of Home Recipes
Strawberries and Cream Angel Food Cake Roll
This light and fluffy angel food cake roll is filled with a creamy filling and fresh strawberries. A fun spring dessert.
Ingredients
For the cake
9 egg whites
1 1/2 teaspoons vanilla extract
3/4 teaspoon cream of tartar
1 cup + 2 Tablespoons granulated sugar
3/4 cup cake flour
1 Tablespoon confectioners' sugar
For the filling
2 cups heavy whipping cream, chilled
6 Tablespoons powdered sugar
1 teaspoon vanilla extract
3 cups diced fresh strawberries
confectioners' sugar, for dusting top of cake (optional)
Instructions
Place the egg whites in the bowl of a stand mixer fitted with the whisk attachment, and let stand at room temperature for 30 minutes.

Meanwhile, line a 15x10-inch baking pan with waxed paper; lightly coat paper with cooking spray and set aside. Preheat the oven to 350ºF.

Add the vanilla extract and cream of tartar to the egg whites, and then beat on medium-high speed until soft peaks form, 3-4 minutes. Gradually beat in the granulated sugar, 2 tablespoons at a time, on high until stiff glossy peaks form and sugar is dissolved, 4-5 minutes. Then, gently fold in the flour with a rubber spatula, 1/4 cup at a time.

Carefully spread the batter into the prepared pan. Smooth with an offset spatula so it is evenly spread on the pan. Bake for 17-23 minutes or until cake springs back when lightly touched and is a light golden brown. Let cool for 5 minutes.

Dust a clean kitchen towel with 1 tablespoon confectioners' sugar. Turn the cake out onto the kitchen towel. Gently peel off waxed paper. Roll up cake in the towel jelly-roll style, starting with a short side. Cool completely on a wire rack.

Meanwhile, in the bowl of a stand mixer fitted with the whisk attachment, beat the heavy cream on medium speed until it begins to thicken. Add the powdered sugar and vanilla extract; increase the speed to medium-high and beat until soft peaks form. Gently fold in the strawberries. Store in the refrigerator until ready to use.

Unroll cooled cake; spread filling to within 1/2-inch of edges (you will have some filling leftover). Roll up again. Place seam side down on a serving plate; sprinkle with additional confectioners' sugar, if desired. Serve with any leftover strawberries and cream filling. Store leftovers, covered with plastic wrap, in the refrigerator.