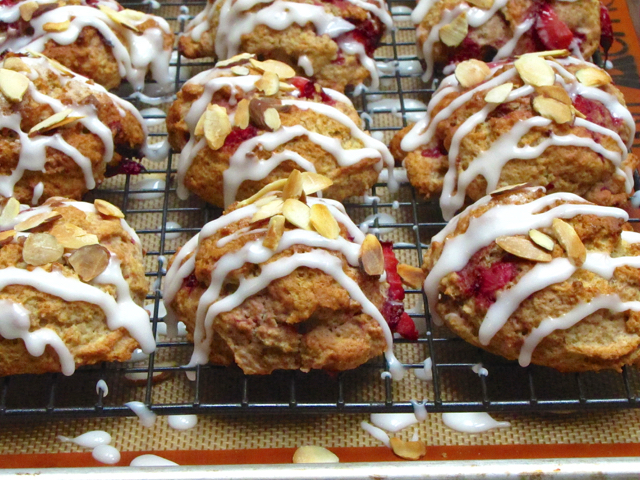 So you all probably know by now that my favorite meal is breakfast. (Since I can't count dessert as a "meal".) Carb treats are my favorite to bake up to have alongside my morning cup of coffee or as a mid morning snack. My husband particularly likes breakfast treats that he can take along in his lunch for work. Since he lobster fishes, he takes a lunchbox and needs things that are easy to grab quickly.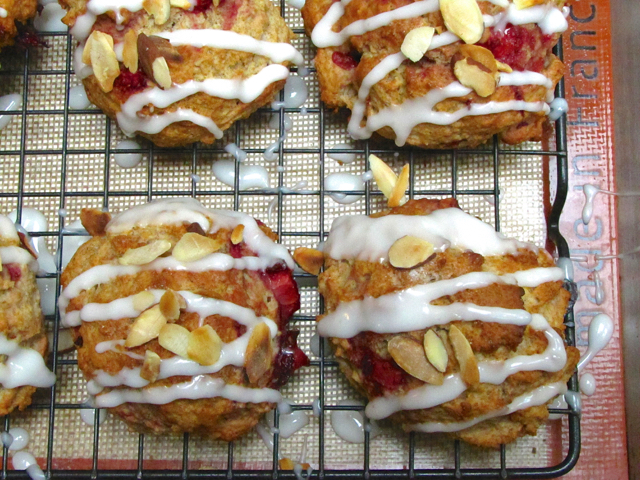 These scones are the perfect breakfast treat. Fresh strawberries (picked from our garden!) and toasted almonds are one of my favorite combinations. With a sweet almond glaze? I am absolutely hooked! These are flaky, yet tender and full of flavor. These scones would be welcome at any breakfast or brunch!
---
Recipe adapted from The Curvy Carrot
Strawberry Almond Scones
Flaky, tender scones filled with fresh strawberries and topped with sliced almonds and a sweet glaze. These are great as a breakfast or mid afternoon treat.
Ingredients
For the scones
1 1/2 cups all-purpose flour
1 1/2 cups whole wheat flour
1/4 cup plus 2 Tablespoons granulated sugar
1 Tablespoon baking powder
1/2 teaspoon baking soda
1/2 teaspoon salt
8 Tablespoons unsalted butter, cold, cut into 1-tablespoon pieces
1 1/4 cups buttermilk
1 1/2 cups strawberries, sliced
2 Tablespoons granulated sugar, for dusting the tops of the scones
For the buttermilk glaze
2 cups powdered sugar
3-4 Tablespoons buttermilk
1/2 teaspoon almond extract
Pinch sea salt
1/2 cup sliced almonds, toasted
Instructions
For the scones: Preheat the oven to 400°F. Line two baking sheets with parchment paper or silpat and set aside.

In the bowl of a food processor, combine the flours, sugar, baking powder, baking soda, and salt. Pulse until combined.

Sprinkle the butter pieces over the mixture. Pulse until the mixture resembles coarse sand.

Add the buttermilk mixing until well combined. Transfer the mixture to a large bowl and gently fold in the strawberries.

Gently scoop out about 1/4-cup portions of the dough onto the prepared baking sheets and slightly flatten each with your fingers.

Lightly sprinkle each scone with the 2 tablespoons granulated sugar.

Bake the scones until lightly golden around the edges, about 15-20 minutes, rotating halfway through.Remove from the oven and let cool for about 30 minutes before glazing.

For the glaze: In a medium bowl, whisk together the powdered sugar, buttermilk, almond extract, and the pinch of salt. Let sit at room temperature until you are ready to glaze the scones.

Once slightly cooled, carefully drizzle the glaze over the scones. Top each scone with a small handful of toasted almond slices. Serve.
Notes
These are best eaten the day they are made, but will keep in the refrigerator for 2-3 days wrapped.