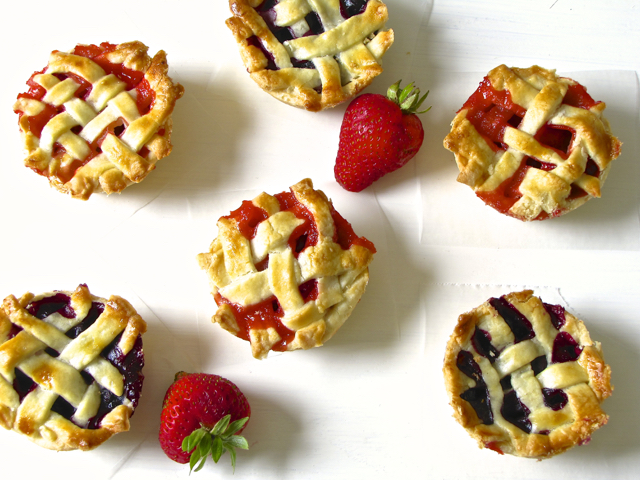 I always forget how busy the month of July is. My daughter's birthday is this month, as well as many of her friends and my sisters! And of course, there is the 4th of July celebrations, boat races and Fisherman's Day. Eeek! Each event takes up every weekend. Us islander's seldom have events all year long, so we have to pile it into one month it seems! As my kids get older, I look forward to the events more because they get to enjoy them.
Since the 4th of July is only a few days away, I thought I'd bring you a few themed desserts. What are everyone's plans? BBQ's and parade sightings? My husband usually works on the day, so I bring the kids to see the parade. Then in the afternoon, when my husband is home, we all go down to the pier where there is food and some festivities. And of course fireworks at night! Although, since we live on an island, and the fireworks are set off on a little island in the harbor, it's usually foggy! So the fireworks are often post poned until the next night. So we get to celebrate Independence Day two days in a row!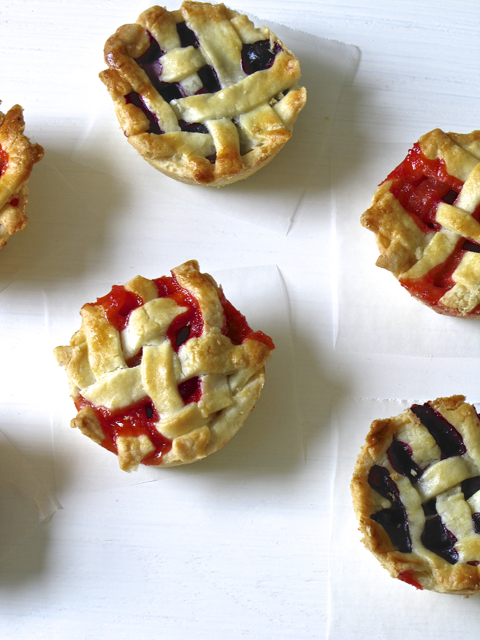 These mini pies are a cinch to throw together, and would be perfect to serve at your 4th of July cookout. You can use whatever fruit filling you'd like (even stuff from the can would work!). And don't feel obligated to make your own crust, store bought works too (homemade tastes so much better though)! As long as you have enough for two pie crusts. And, you don't have to do a lattice top either. You could do a crumble topping, or cover with crust and cut a few slits in the top for steam ventilation. Whatever suits your fancy!
---
Recipe for the pie crust from Lily's Cafe Cookbook, by Kyra Alex, mini pie idea from 2013 Cupcake Calendar, July.
Strawberry and Blueberry Mini Pies
These adorable mini pies are filled with a strawberry filling and blueberry. They are a fun, bite-sized treat.
Ingredients
For the crust
2 1/2 cups all-purpose flour
1 Tablespoon sugar
1 teaspoon salt
2 sticks (16 Tablespoons) unsalted butter, cold, cut into small pieces
4 Tablespoons ice cold water
For the pie filling
1 cup fresh or frozen blueberries
1 cup chopped strawberries, fresh or frozen
2 Tablespoons sugar, divided
2 Tablespoons all-purpose flour, divided
2 teaspoons lemon juice
For the topping
1 large egg
1 Tablespoon milk or half and half
turbino sugar (optional)
Instructions
To make the pie crust, place flour, sugar and salt in the bowl of a food processor. Process a few seconds to blend. Sprinkle the butter pieces over the top of the flour mixture. Process until it resembles coarse meal. With the machine running, slowly pour in the water through the top, and process just until it begins to clump together. Remove from the processor and gently gather into a ball. Divide in two and cover tightly with plastic wrap. Refrigerate for 30 minutes before rolling out.

While the dough is refrigerating, preheat the oven to 400ºF. Have ready an ungreased muffin tin. Separate the berries into two small bowls. In the blueberry bowl, mix in 1 tablespoon sugar, 1 tablespoon flour and the 2 teaspoons of lemon juice. Mix until the blueberries are coated with the mixture. In the strawberry bowl, mix in the remaining 1 tablespoon flour and 1 tablespoon sugar. Mix until coated. Set aside until ready to use.

After the dough has been chilled, lightly flour a surface. Roll out one piece of dough to an 1/8-inch thickness. Using a 3 1/2-4 inch round cookie cutter, cut out 12 rounds of the pie dough. Gently place each round into the wells of the muffin tin. Spoon enough of the fruit fillings in to fill each well.

Roll out the second piece of pie dough to 1/8-inch thick. Using a pastry or pizza cutter, cut out strips about 1/4-inch wide. Using about six strips on each pie, weave a lattice top over each pie. Beat the egg and milk together and gently brush over the top of the pies. If using, sprinkle turbino sugar over the tops.

Bake for 20-22 minutes until the filling is bubbly and the crust is golden brown. Let cool at least 20 minutes before removing. To remove the mini pies, using a butter or pastry knife, gently separate the pies from the tin. Place on a wire rack to finish cooling, or serve!