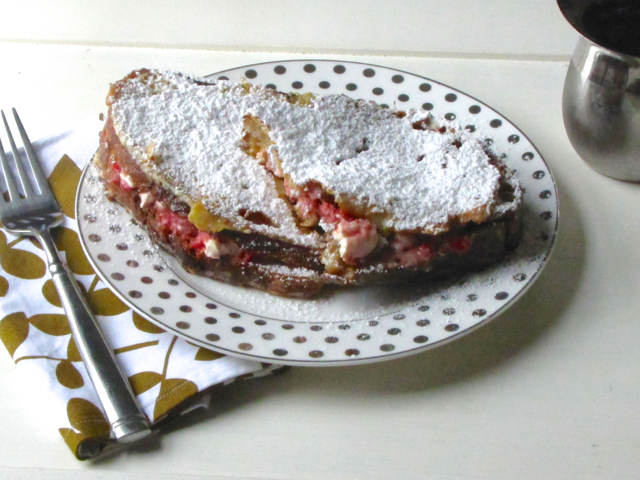 Do you ever see a picture of food or think of something you have seen and want it now? Yeah, that has totally been happening to me lately. I will browse my newsfeed of blogs or be looking around the internet for goodness knows what, then I will see a picture of food that looks absolutely amazing and feel as if I should make it right now. So, I go running into the kitchen to see if I have all the ingredients, or what I can substitute if I am missing something. If the fridge and cupboards look like they do right now (end of the week, before grocery shopping, bare as a bone), then I will dream, drool and non-stop think about that recipe that-I-need-to-have-now. Pregnancy obsessions anyone?
Well, this recipe was one of those complete spur of the moments. Like, I ran up to my mom's and borrowed cream cheese from her just so I could make a version for myself for lunch. (One kid was at pre-K and the other was napping, is that selfish?) I had two-day old Tinderhearth french batard that needed to be used up and fit the ticket perfectly. Oh my, it was one of the most satisfying lunches ever. I got to cook and eat in peace while little man napped away, and as any parent knows I am sure, that is a very rare occasion! I sat and enjoyed my I-don't-care-it's-unhealthy lunch, savoring every bite. This is a wonderful breakfast for the whole family, or maybe that special someone on Valentine's Day. Or maybe for your loved one to wake up to breakfast in bed? Now that's what I am talking about!
---
Recipe adapted from Annie's Eats, originally from Williams Sonoma and The New Best Recipe
Strawberry Cream Cheese French Toast
This over the top french toast has been stuffed with sweetened cream cheese and strawberries. Makes for a fun breakfast for all.
Ingredients
For the filling
1 cup sliced fresh strawberries (or frozen)
2 Tablespoons sugar
4 oz. cream cheese, softened
For the toast
4 thick slices bread, or bread of choice*
1 large egg
3/4 cup milk
2 Tablespoons melted butter
1 teaspoon vanilla extract
1/4 cup all-purpose flour
1/2 teaspoon ground cinnamon
1/4 teaspoon salt
unsalted butter
Maple syrup, confectioners' sugar and additional strawberries for serving
Instructions
To make the filling, combine the sliced strawberries and sugar in a medium bowl. Mix well and set aside to macerate for about 15 minutes. Stir in the cream cheese until well blended.

To prepare the toast, carefully slice a pocket into the center of each slice of bread, taking care not to cut all the way through to the other side. Alternatively, use two slices of bread to create a sandwich of sorts. Heat a large skillet over medium heat.

In a shallow baking dish or pie plate, whisk together the egg and milk. Whisk in the melted butter and vanilla extract. Stir in the flour, cinnamon and salt and whisk until smooth. Fill the pocket of each slice of bread with some of the filling mixture, or spread on one slice of bread and press the second piece on top. One or two at a time, place the filled slices of bread in the egg mixture, soaking about 30-40 seconds per side. Remove the bread and allow the excess batter to drip off. Transfer to a plate and repeat with the remaining bread slices.

Add 1 tablespoon of butter to the heated skillet and swirl to coat. Add the filled slices of toast to the skillet in a single layer. Cook until light golden brown and crisp, about 1-2 minutes per side. Repeat with the remaining slices of bread, adding more butter to the skillet as needed. Serve immediately with maple syrup, powdered sugar and fresh strawberries as desired.
Notes
*I have used all sorts of bread for this recipe. I have used regular-old sliced sandwich bread, or day old batard. Whatever you have on hand will work, just make a sandwich instead of stuffed.